It Is Time for The Annual Mexican Fiesta
Hola and welcome to Mexico for Willy's Hot Chillies slot review. If you are a fan of hot and ultra-spicy food, you have to try out Willy's chilli. We guarantee it is the best in Mexico. Willy's hot chillies combine great with his self-made tortilla. This will surely get your belly on fire. You know that the food is excellent when the host himself turns up on reel #1 to personally meet his guests and try out some of that fine chilly.
| | |
| --- | --- |
| Max Win | 2 000x your bet |
| Min Bet | 0.20 coins |
| Max Bet | 400 coins |
| Return to Player (RTP) | 96% |
| Volatility | Medium |
| Free Spins Available | Yes |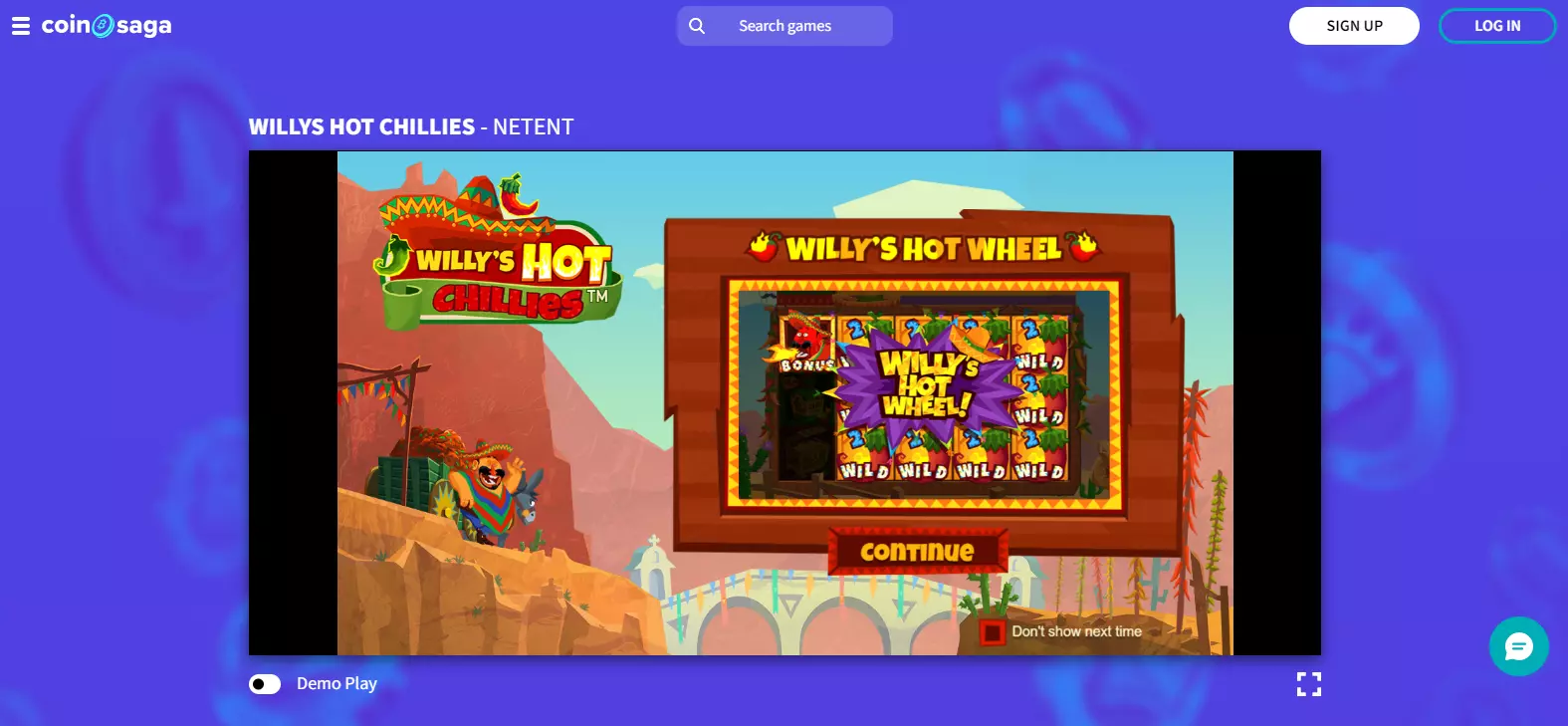 The location for this video slot game is an isolated ranch between the mountains of Mexico. It is a peaceful and quiet atmosphere. The peace is only sometimes interrupted by the barking of a dog or the crowing of roosters.
The graphics and design include everything you would expect to find in your typical Mexican town: A spiky cactus on the left and a sombrero placed on the wooden fence on the right. The occasional hot air balloon flies by from time to time and disappears behind the reels.
Red, green, and orange chilli peppers hang down from both sides of the reels. This is a slot game created by NetEnt and presented in a 5×3 reel formation with 20 fixed paylines. Every win is accompanied by traditional Mexican theme mariachi music to liven up the atmosphere of Willy's Hot Chillies.
This slot is of medium volatility and has a nice and round RTP of 96%. Winning bets up to 2 000x the wagered amount is possible, and the game is designed with two main bonus features. Players will come across Multiplier Wilds which can extend and cover the entire reel. The best part of Willy's Hot Chillies is the Willy's Hot Wheel Spins feature where you can get coin wins up to x30 your bet and various prizes from the chillie multiplier.
In the next sections of this Willy's Hot Chillies slot review, we will show you how to make the chilli peppers work to your advantage to trigger hot wins. Speaking of hot wins, have a look at the CoinSaga slots that were ultra-hot during October 2020 in our casino, and try not to burn your fingers. New customers can take advantage of our incredible Welcome Bonus Package.
Slot Game Specifications
| | |
| --- | --- |
| Software Provider | NetEnt Games |
| Date of Release | July 2020 |
| Slot Type | Video Slots |
| Number of Paylines | 20 |
| Reels Setup | 5 reels |
| Special Features | Free Spins, Chillie Multiplier, Willy's Hot Wheel Bonus Game, Multiplier Wilds, Fire Pointers |
| Progressive Jackpot | Yes |
| Supported Devices | Desktop, Mobile, Tablet |
Special Features of the Willy's Hot Chillies Slot Game
This spicy slot has two extra-hot bonus features to help boost your wins. Those are:
Multiplier Wilds
Willy's Hot Wheel
Multiplier Wilds
Four different pictures of chilli peppers are used as the wild symbols in this game. They can substitute for any other symbol when creating winning combinations, but their second function is more relevant. They are equipped with multipliers of 2x, 3x, 4x, or 5x, respectively. Any wins in which they participate will be multiplied with the shown multiplier.
In case more than one multiplier appears, the numbers will be added up. These multipliers can fully extend, cover the entire reel, and become stacked multiplier wilds. Players can discover them on reels 2, 3, 4, and 5 during the base game. The only reel they can't pop up on is reel #1. The first reel is crucial in this online slot game for other reasons which we will cover in the next part of this Willy's Hot Chillies slot review.
Willy's Hot Wheel Bonus Rounds
Willy's Hot Wheel feature is the equivalent of Free Spins. This bonus round is triggered if a bonus symbol of Willy appears on reel #1, followed by at least one Multiplier Wild that covers an entire reel. The number of Free Spins will depend on the total number of stacked wild multipliers. For example, if two x3 stacked wilds appear on two reels, the number of Hot Wheel bonus games will be 6.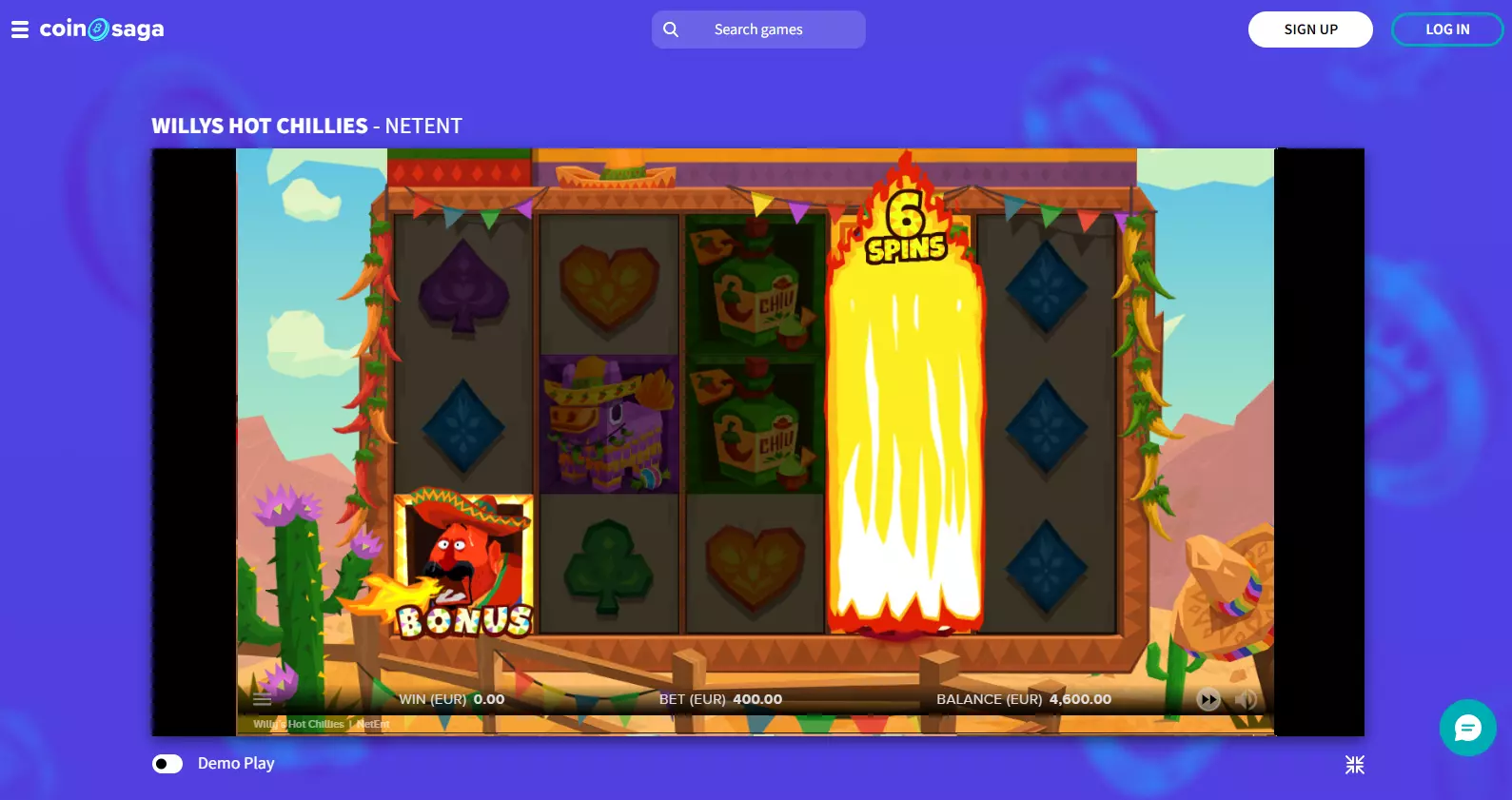 Every fully covered wild turns into a Fire Pointer. The Fire Pointers will point towards wins throughout the Hot Chillies bonus game. A completely new type of game will start where the spinning cycle is performed horizontally and above the original grid formation.
Every Fire Pointer can pay one of the following rewards:
Coin Win – random cash prizes ranging from 1 to 30 times the initial bet can be awarded to the players on online casinos.
+3 Spins – 3 additional Free Spins are added to the sum of the Fire Pointer that triggered the award.
Extra – the extra reward turns one of the reels into a Fire Pointer.
Chillie Multiplier – this option increases the displayed chilli multiplier by 1 every time a Fire Pointer points on a chilli pepper.
The number of Hot Wheel bonus games decreases after every spin. Besides rewards, the wheel of the Hot Chillies Willy slot also contains empty spaces that award nothing and only reduce a player's Free Spins balance. All wins you land during the Free Spins games are multiplied with the Chillie Multiplier. The feature is over when all the awarded spins for all Fire Pointers go down to 0.
Willy's Hot Chillies Slot Review – Paytable and Gaming Options
Symbols
The Willy's Hot Chillies online slot is equipped with 8 regular symbols, which can be further divided into two groups. There are 4 high-value and 4 low-value symbols. The 9th icon is Willy's Bonus Symbol.
The high-paying symbols are the tortilla and the bottle of green chilli sauce, a pinata, and a treasure chest full of gold. In my opinion, the treasure chests were a completely wrong move by NetEnt, and I can't see the connection or symbolism between this item and the overall theme of the game. Nevertheless, it's the most rewarding symbol. It can pay up to €1.200 when 5 of these symbols appear in a winning combination.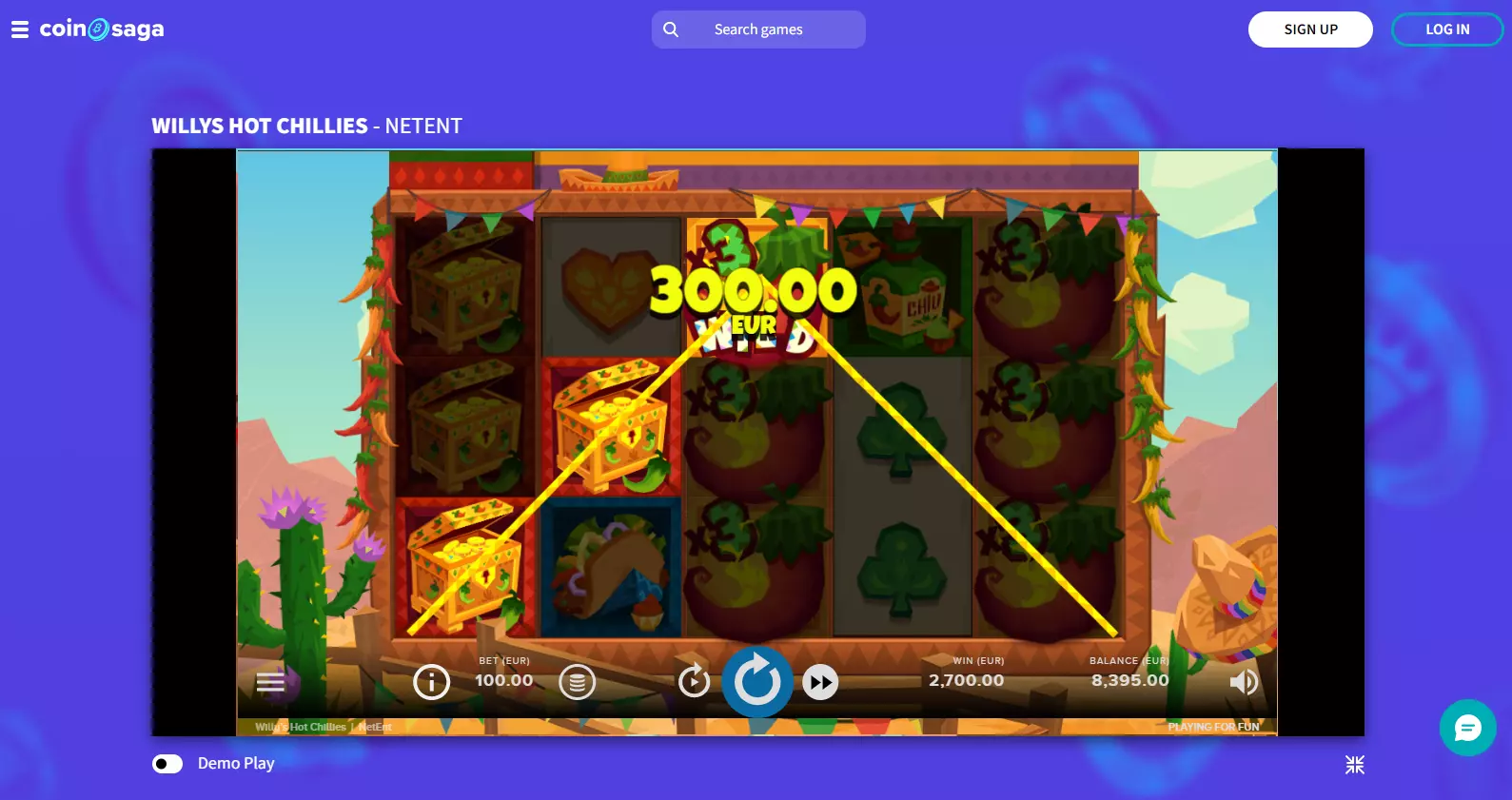 The purple sombrero-wearing pinata offers rewards up to €800 at best, while the taco and chilli sauce pay no more than €400 each.
All four low-value icons have the exact same payout rate. They top-up the player's balance by €60 for 3 appearances in a line, you get €100 for a combination of 4 and €200 for the maximum of 5 symbols per payline. The four card suits are diamond, club, spade, and heart-shaped.
Buttons and Options
The button arrangement is very simple. Everything you need can be found at the bottom of the screen, just below the reels. The big round blue button starts the spinning of the reels, but before you get to that, there are a couple of other things we need to mention first in this Willy's Hot Chillies slot review.
Selecting a preferred betting amount should be done before anything else. Here you have an abundance of choices. The minimum betting amount is €0.20, and the maximum is €400 per spin. Consider how high you want to go and click on the corresponding field. Always remember to gamble responsibly, and don't wager what you can't afford to lose.
When that is done, we suggest taking a look at the paytable information. Notice the info logo on the left? Click on that to check out the payout values, read about the Multiplier Wilds, and Willy's Hot Wheel feature.
While you play this game, don't forget to keep an eye on the background. You will be surprised by what you see there. Hot air balloons can be seen in the sky, but instead of regular balloons, one of them flies with the help of a sombrero. A second hot air balloon with a traditional Mexican moustache is visible as well. Can you make out what the third one is? A very creative way by NetEnt to present some of the Mexican cliches.
On the bottom far left, you will notice a button with 3 lines. Click on it to bring up the game settings menu where you can activate or deactivate quick spins, the option to use the spacebar to spin the reels, etc. A detailed overview of the game rules is also available to make the players familiar with the ins and outs of Willy's Hot Chillies slot.
An Autoplay button is located in the middle, on the left of the spin button. Spin rounds from 10 to 1000 are on offer. Players can activate one or more stop conditions in case their balance goes above or below a set limit. To see what is available, click on the advanced settings after selecting your preferred number of auto spins.
There is only one more button hiding on the far right. That is the volume slider where you can adjust the sound or turn it off altogether if you prefer silence.
Final Thoughts
When we tested the game for the purposes of our Willy's Hot Chillies slot review, we had some impressive results. The Willy's Hot Wheel feature was activated more than once, and the Multiplier Wilds were capable of paying out several €1000 worth of wins.
But Willy's chilli ranch let us down a few times as well. The bonus symbol would appear on reel 1. Still, a fully covered Multiplier Wild symbol didn't find its place on any of the remaining reels. But that is the risk you should be willing to take.
This slot game is still entertaining to play, and never once did we miss the usual Free Spins bonus round. Willy's Hot Wheel feature makes up for it. The short music sequences that follow multiplied wins are a great celebration. It is like NetEnt wanted to say: "Good job!"
I have recorded some great wins during the Hot Wheel bonus feature but was never able to activate more than one Fire Pointer. To get max rewards, you can play the Willy Hot Chillies slot on CoinSaga for real money wagers. A Welcome Bonus awaits all new players! Share your best results with us in the comments below, and try not to burn your eyes on the hot chilli sauce.