What is Odd or Even Goals Betting?
Odd or even goals betting is a market predicting whether the total goals in a match scored by both teams will be either even (divided by two) or odd (not divided by two).

Odd or Even goals betting market is popular among players because the odds provided are usually higher than other market.
However it is difficult market to predict the outcome as it only takes one goal to change your betslip from a winning to a losing, which is why most of the good betters stay away from options like these.

The odds will usually be around 1.9 for Odd or Even, giving the bookie small edge against players, but it is possible to beat the bookie if you do statistical research before you place your bets.

Odd Even goals stats
You should bet on odd or even betting market if you like to have two possibilities. Moreover if you have a love for statistics, it is possible to make a good profit long term by analyzing these data.
Statistic is the key to win on odd/even betting market as they provide you trends about how different teams are performing.
There is a lot of data available about past results of odd/even goals on stats on different sites like http://1x2stats.com/en-us/statistics/bets/odd-even/ .
These sites shows you the trend of different teams to finish with odd or even, obviously there is no guarantee on the match outcome.
Analysing final score statistics can help to identify probabilities of whether a match is likely to finish with an odd or even number of goals.
However if you do not like to make lot of analysis, probably this is not your betting market. It takes a lot of research to make a profit on odd or even goals, as it will otherwise be a 50/50 bet where you only get 1.9 times your money back.
Can I make a profit betting on Odd or Even goals?
It is possible to make a profit if you choose to bet on odd or even goals. As we said if you want to remove the luck factor you need to analyse previous results, recent form of the teams and their forward's form and so on. By doing so, you will get a profit in the long period, which will give you a return of your investment.
Odd or Even goals best strategy
One popular odd even goals strategy involves an insurance to your bet, creating a 6 fold accumulator bet on an even number of goals in all the matches.
Then events must not be simultaneous, but with some several hours difference. Then we place six different single bets on opposite outcomes of each event in turn, i.e., if we bet on an even number and the bet wins, our next bet is on an odd number, and we continue like this until the single bets are all resolved. For each single bet winning amount you need to reinvest all amount of winning on next single bet.
If all the 6 matches end with an even number of goals (which is unlikely), the accumulator bet wins, and our expenses are partially covered.
Anyway, the logic behind this strategy is if you single bet fails, your acca bet will remain valid.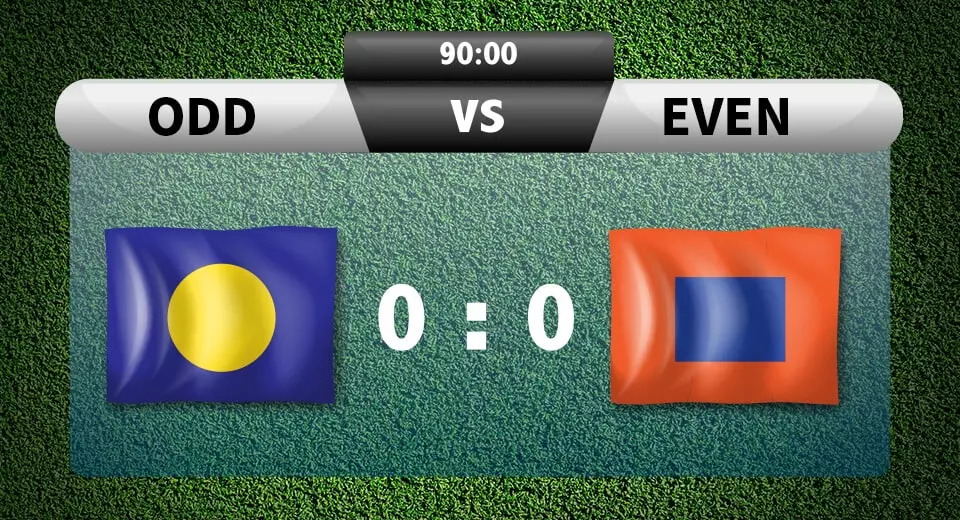 Another good odd/even strategy involves live betting. In this strategy you have to wait until after half time and find a match which is 0-0, but you watched a huge number of shots by one or both teams and the odds of at least 2.0. So you bet on the final score odd. If the game finishes odd, then you will win and if it finishes even, you should place another bet following the same strategy. The difference is that this second bet should be 2.5x higher than the first. In this way, you will still make a profit even if you lose your initial stakes. If you have a limited bankroll you should start with low amounts as stakes could rise quickly with this strategy.
Odd Even goals tips
It is impossible to be 100% sure of the outcome of an odd/even bet, but here you find list of smart tips of odd even betting goals market.
Looking for higher odds
This tip is correct for all kind of bet types but have high value especially on Odd/Even.
You can check the most competitive odds for the highest pay-out, but you can check which result is seen as being more probable.
Research teams
Make a research of any teams that you wish to bet on. Check if a team have an offensive tactical approach or defensive style of play, which teams are on a winning or losing recent flow, and which players are unavailable to play due to injuries or suspension can greatly influence a match – and more important your odd/even goals bet, and last but not least the team motivation is really important.
Looking for search for low scoring team
As a general rule, when creating your own odd/even goals strategy, you must focus on low scoring matches. The reason for this is to keep your bet controlled. If a team is much better of his opponents, then it would be almost impossible to predict whether the match will finish 4, 5 or 6 to nil and so odd or even. By going for lower scoring matches, total goals statistics can still work.
In the same way that some teams naturally score less goals than others, there are certain leagues which also have less goals. In the 2019/20 season for example, 58% of matches in Portugal's Primeira Liga featured 2 goals or less while the Spanish La Liga (53%) and French Ligue 1 (52.68%) also registered a high percentage of matches with the same number of goals.
Other bet types of Odd or Even bets
In addition to the classic odd/even goals, some bookies offer variations of this type of bet.
1st Half Odd/Even Goals and 2nd Half Odd/Even Goals – where you can predict the whether the number of goals will be odd or even according to the different half of a match
Home Team Odd/Even Goals and Away Team Odd/Even Goals – where you can predict the goals scored by just one team will turn out to be odd or even.
Combo Bets – where you can combine multiple markets in one bet such as both team to score (BTTS) and odd/even or 1X2 and odd/even.
Other options – for other sports like Basketball which have higher scoring matches, you can also bet on odd/even total points. The concept it similar to what we are describing here but has a different name since it refers to points and not goals.