Chicken Chase from Pragmatic Play is something of an anomaly. This is a game that started sweet and got softer as the review progressed. Time to brace for a chase.
A quick glance at the animals on Chicken Chase's 5×3 reel set provides all the clues needed to fill in any storyline gaps. Clearly, the chase involves hungry wolves going after a farmer's poultry. The game is set on a classic looking slot farm, all red barn, hay, windmills, and sun setting over majestic mountain tops type thing. Very idyllic, and the cartoonishly drawn critters work hand in hand with the oompah/saloon soundtrack to put players at their ease.
Features full review
Features wise, the Chicken Chase slot has a very unique feature called the 'Spin and hold' that triggers regularly in addition to a quick fire pick 'n click bonus feature.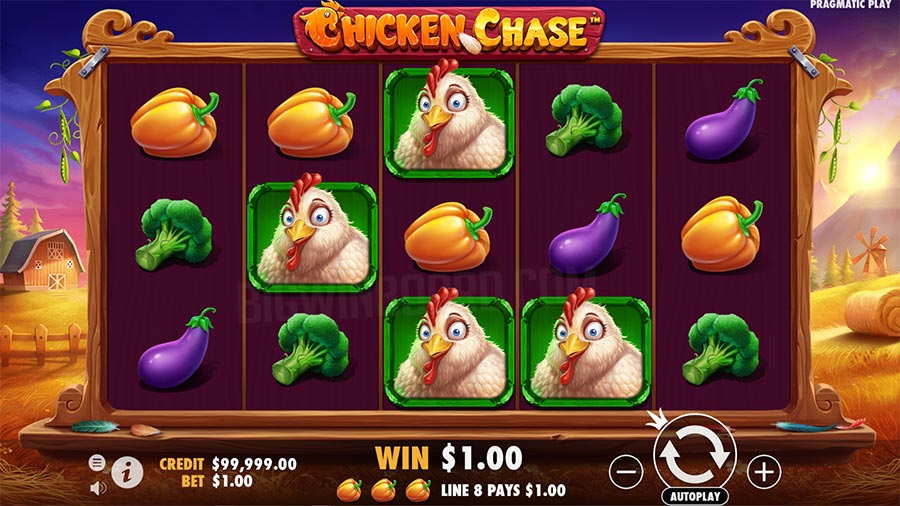 Spin and Hold
This spin and hold feature a bit different. When you hit spin and do not land a five of a kind win, a respin is awarded. The game pays after the respin, or if a 5 of a kind winning combo lands on the initial spin. Between the initial spin and the free respin, players get two options. One, you can select which reels you would like to hold for the respin. Or, let the game randomly pick the held reels. Respins are free in either case, and players can deselect any reels the game chooses.
Bonus Feature
In order to trigger the bonus feature, players will need to land 3 or more golden egg bonus symbols. When the four chickens appear on screen and players pick one to win an instant reward.
The bonus feature instant prizes are as follows:
2x, 4x, 12x, or 50x the bet amount if the feature is triggered with 3 bonus symbols.
4x, 8x, 24x, 100x the bet if the feature is triggered with 4 bonus symbols.
6x, 12x, 36x, 150x the bet if the feature is triggered with 5 bonus symbols.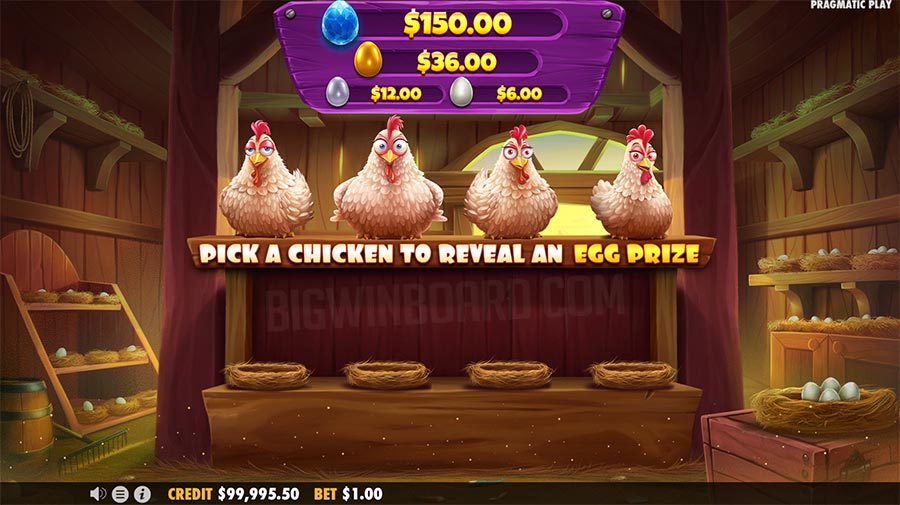 Pragmatic Play – Chicken Chase – Slot Verdict
And that's it y'all. Chicken Chase keeps things light, breezy, and simple throughout. Little emotional commitment is required, which might be ideal for an undemanding session. The problem is, saying Chicken Chase's rewards tend to the low side is something of an understatement. This is gaming for those who appreciate the dynamics of a low volatile slot, firing off frequent, albeit unspectacular, wins.
It's not hard to see some players being drawn to what Chicken Chase has to offer, however. In some ways, you get two spins for the piece of one, so it might be a hit with players looking to draw out their game time as much as possible. Chicken Chase's hold function might not be as sophisticated or as immersive, but you can't argue with the cost. Memorizing the slot win lines might help when picking which reels to hold. Fortunately, there are only 10 of them.
However, you often get what you pay for in life, and when it comes to winning potential, the Chicken Chase slot is about as meagre as it gets. First, the Bonus Round maxes out at 150x, and that's only if you get lucky on a five bonus symbol trigger. Secondly, should Chicken Chase hit 210x the bet in a single game round, boom, that's it, game over. We're assuming the max win frequency is quite high as compensation, but Pragmatic Play hasn't dropped the official stat for us to be able to verify.
We've got a sneaky suspicion there won't be too many degens lining up to do battle with the farm theme Chicken Chase slot any time soon. To its credit, the Chicken Chase slot doesn't try to sell itself as a big win, big thrill game, like some lightweight slots try to do. It's undemanding and chases a specific sector of the market that is after a lite, charming style of slot.