Introduction
Gold Digger: Mines slot is the latest addition to the iSoftBet portfolio, and it is played on 5×5 grid and in somewhat different manner than we're used to with regular slots. The main character here is our favourite miner Gus, and the theme is really self-explanatory.
So, grab your cap, pickaxe and the rest of the needed gear before you descend into this mineshaft.
| | |
| --- | --- |
| Min Bet: | $1 |
| Max Bet: | $300 |
| Return to Player (RTP): | 98.88% |
| Volatility: | N/A |
| Free Spins Available: | YES |
How to Play Gold Digger: Mines Slot
Set your bets and let's start digging for lucrative gold nuggets. Just watch out for the TNT.
Select Bet +/- will increase or decrease your bet levels.
TNT Mines +/- will increase or decrease number of mines in the grid
Play! button will clear up the grid and let you start picking round from scratch.
Cash Out shows up after the round is started and lets you cash out at any moment before you run into TNT mine.
Gold Digger: Mines is played on a 5×5 grid consisting of 25 covered squares. Behind each square is either a gold nugget with a cash prize or dynamite. Your task in one round is to open as many squares with prizes as possible and not stumble upon TNT.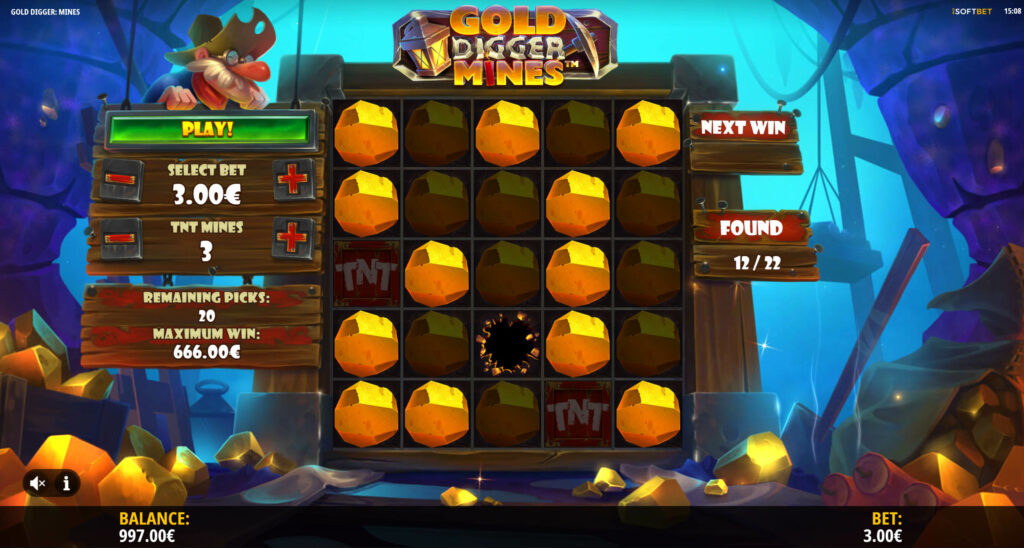 Slot Features
This instant play slot is all about collecting Gold Nuggets and avoid TNT mines. It's a pick 'n click game, and the more TNT mines you choose to have in the grid, the faster your winnings will grow, and you can choose up to 15 mines to be present. Each Gold Nugget will increase your prize, but the moment you run into TNT the round will end and you will lose, so be smart about when you choose to Cash Out the round.
When you hit Play the grid will clear out and be covered entirely. Each square will hide either a gold nugget or TNT Mine. Once you uncover a gold nugget, it will display the value and add to the total displayed on the Cash Out bar.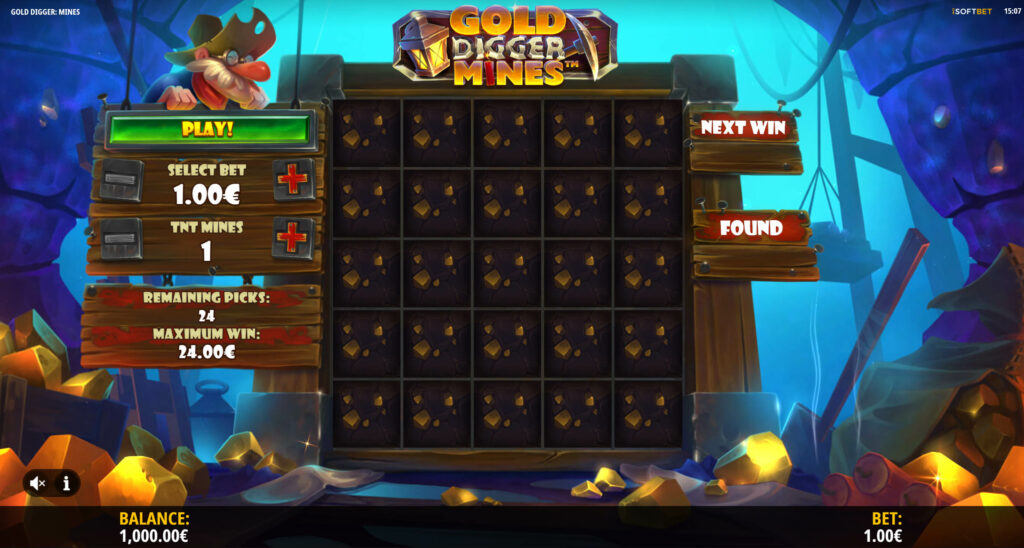 Summary
Gold Digger: Mines looks nothing short of an amazing, and although pick 'n click is nothing innovative, this type of instant play is really fun. It's fast paced and entertaining slot where you can control volatility yourself by choosing the number of Mines you want to add.
RTP is set to stunning 98.88% and max exposure is set to 86400 coins.
All in all, this one definitely has our recommendations.