Very simply, with the Asian Handicap, you have only two betting options – on the Home team or the Away, or in other words on the favourite or the underdog (outsider). There is no option for a draw.
The Asian Handicap is a type of bet used in many sports to even out the imbalance between two teams.
For example, in the English FA Cup, we see plenty of small teams drawn against Premier League giants each season. If Arsenal were to play Playmouth the betting odds would be greatly in the Gunners favour. Their odds would be very low. And that makes betting on Arsenal to win, draw or lose — often termed the 1X2 bet type — not very tempting for the punter. What the Asian Handicap does is balance those odds by offering to even out the result.
The Asian Handicap levels the odds of both teams towards Evens, so the winning probability for either bet is closer to 50%. This is done by giving a handicap on a team winning or losing by 'adding to' or 'subtracting from' their final goal tally. The big difference in Asian Handicap is you can win your stake back if a team does not exceed or fall below your handicap mark.
One of the big reasons punters like to bet on football with Asian Handicap is because your stake is more easily covered. This is because a draw is very much a possibility, meaning there are three realistic outcomes to a game. The Asian Handicap effectively covers you for that middle outcome.
-What is the Asian Line?
Before giving you any examples, first, you must get familiar with the rules in Asian Handicap (AH) in order to understand the examples. Every match has a different AH Line (It is possible to have two or three lines on one single match) and in the picture below you will see the different Asian Lines. AH1 means to bet on the Home team and AH2 means to bet on the Away team. You can check all the abbreviations like EH, U/O, GG/NG, 1X2 and HO/AU/HU needed for sports arbitrage betting
-What is Asian Handicap in Live Sports Betting?
If you are betting live on AH, you are betting only on the remainder of the match. This means that the goals will start counting after you place your bet. Any previous goals scored in the match will be irrelevant to the outcome of your wager. If you are betting on Under/Over, any previously scored goals will be included in the outcome of your wager.
-Which Bookmakers Offer Asian Handicap Betting?
Not all bookmakers offer Asian Handicap because most of them don't like to refund payments to punters. Some of them may provide such markets but will give very low odds or limited handicaps, which will limit again your winning opportunities.Every match has a different Asian Handicap Line (It is possible to have two or three lines on one single match).
Below you can find an Asian Handicap Table: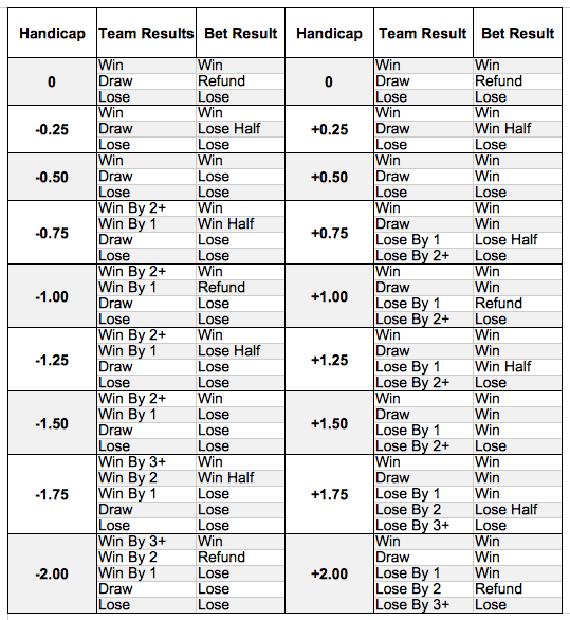 In conclusion, there are many advantages to using an Asian handicap when betting on football, and gaining an understanding of this type of bet will add another dimension to your online betting experience. Good bookmakers offering Asian Handicap Odds include: Coinsaga, Dafabet, 188bet, Sbobet, Pinnacle, Bet365, 18bet, Betvictor, 1Xbet, Odds88.