Introduction
This French Roulette Casino Game review will introduce our players to the most rewarding version of the game with the lowest house edge on the gaming market. Translated from French, the word 'roulette' means 'wheel'. This is a Casino Table Game that involves a spinning wheel, a betting table and a racetrack, and a white ball. The original game of Roulette was actually invented in 17th century France.
| | |
| --- | --- |
| Maximum Win | 35.000 coins |
| Minimum Bet | 1 coin |
| Maximum Bet | 1000 coins |
| Return to Player (RTP) | 98.65% |
| Volatility | Low to High (depending on the bet) |
| Free Spins Available | No |
French Roulette Specifications
The version we are reviewing today was created by Evoplay Entertainment, a development studio for Casino Games. It is interesting to mention that there are 3 main types of Roulette:
French Roulette Classic is very similar to the European Roulette game. They use the exact same wheel, but you will notice that all the terms around the table and the racetrack are in French. But don't worry. We will explain what each and every word means later on in this review.
The French wheel consists of 37 pockets with numbers from 1 – 36 + the 0 slot. The game differs from the European Roulette version due to the presence of the 'En Prison' and 'La Partage' rules. For comparison, the American variant typical in Las Vegas Casinos features an additional double-zero (00) pocket on the wheel.
The player's objective is to predict which number on the wheel the ball will land on. A correct prediction can trigger awards of up to 35.000 coins. There are, of course, many more ways to win, and we will cover all of these in our French Roulette Casino Game review below. This article will cover the rules and types of bets that you can make and the specific gaming terminology that you should know. As a bonus, we will include a free strategy that you can apply when playing the game online.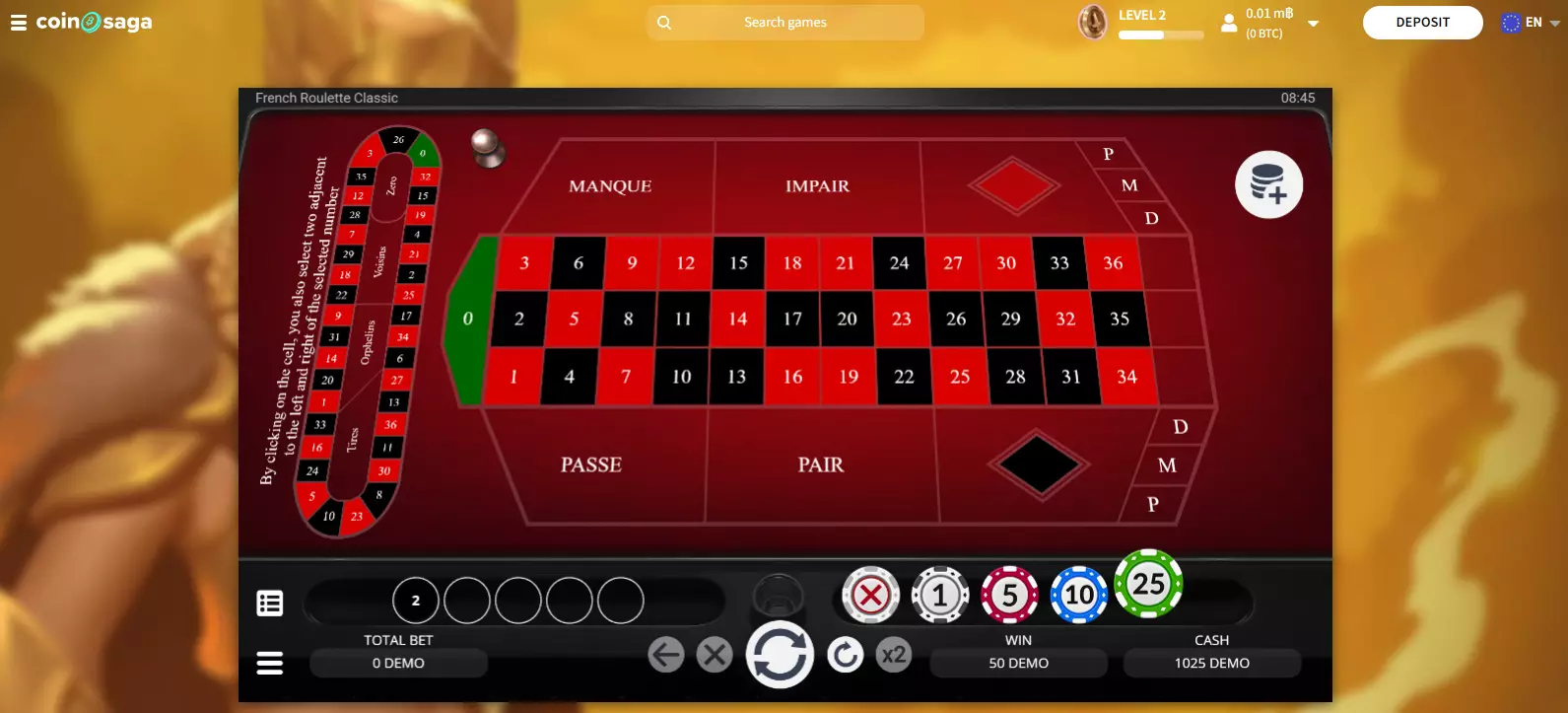 Game Specifications
| | |
| --- | --- |
| Software Provider | Evoplay Entertainment |
| Date of Release | June 2020 |
| Game Type | Table Games |
| Betting Range | 1 – 1000 |
| Special Features | Prison Rule, Call Bets, Extra Bets |
| Progressive Jackpot | No |
| Supported Devices | Desktop, Mobile, Tablet |
Types of Bets and How to Place Them in French Roulette Classic
French Roulette Classic by Evoplay consists of 2 main types of bets: Inside bets and Outside bets. The easiest way to differentiate them is to consider every wager you make on the red/black table an Inside bet. They usually consist of a small set of numbers. Outside bets are placed in the separate fields around the colourful table layout, and they involve a large scale of numbers.
Inside Bets
Inside bets are placed in the corresponding number field on the table, the line separating adjacent numbers, or on the outer line/lines on top of the table.
There are 5 types of possible Inside bets:
Straight – The first type of bet we will introduce in this French Roulette Casino Game review is the Straight Bet. This is a wager on any single number on the table. You make it by placing your chips in the field of the number of your choice.
Split – A bet on 2 adjoining numbers is called a Split. You place it by clicking on the vertical or horizontal lines on the table that separates two numbers. Examples include the numbers 2 and 2 or 3 and 6.
Street – A bet on 3 numbers in a row (from top to bottom) is called a Street. To place a Street bet, click on a corresponding line on the top of the table where the row begins. The numbers 9, 8, and 7 are an example of this wager.
Line – Is a bet on 6 numbers in total in 2 adjoining rows. Similar to Street bets, they are placed by clicking on the correct line dividing the 2 rows at the top of the table. The numbers 9, 8, 7, 12, 11, and 10 are a perfect example.
Corner – A corner bet features 4 numbers that comprise a square layout. Corner bets have to be placed on the table and on the line in the middle of those 4 numbers. 3, 6, 2, and 5 is an example of a Corner bet.
Basic Terminology of French Roulette
Before we dive into Outside bets, it is critical to explain the terms you have probably noticed on the French Online Roulette Classic table. They are a bit different compared to European Roulette. You need to be familiar with those to place Outside Bets.
– Manque means low. Numbers 1 – 18 belong to this category.
– Passe is the exact opposite. Those are high numbers (19 – 34).
– Impair is a term that denotes odd numbers.
– Pair refers to even numbers.
– P, M, D stands for Premiere, Moyenne and Derniere, respectively. The first 12 numbers are Premiere, numbers 15 – 22 are Moyenne, and the last group is called Derniere.
Outside Bets
Next on the agenda in our French Roulette Casino Game review are Outside bets, which are placed all around the standard table layout.
5 types of Outside bets are possible in this Evoplay Entertainment release:
Column – Is a bet on an entire horizontal sequence of numbers. There are 3 columns in the game. To place this type of bet, put your chips in one of the three empty boxes at the far right of the table. Numbers 3 – 36 belong to one column.
Dozen – Bets on the 1st, 2nd, or 3rd set of 12 numbers is called a Dozen. Place a Dozen bet by clicking on the P, M, or D squares at the right side of the table. The numbers 1 – 12 belong to the P set of Dozens, for example.
Red or Black – To put money that the next number will land in a black slot, place your chips on the black diamond. Do the opposite if you believe the following number will be red. Example: 1 is a red colour while 2 is black.
Pair or Impair – Pair is a wager that the next number will be even, while impair denote odd numbers. Place your chips in the correct box based on your prediction.
Manque or Passe – The first set of 18 numbers (1 – 18) fit the Manque selection while numbers 19 – 34 are part of the Passe set. Put your money on Manque if you believe a low number is coming up, or on Passe if you predict a high one.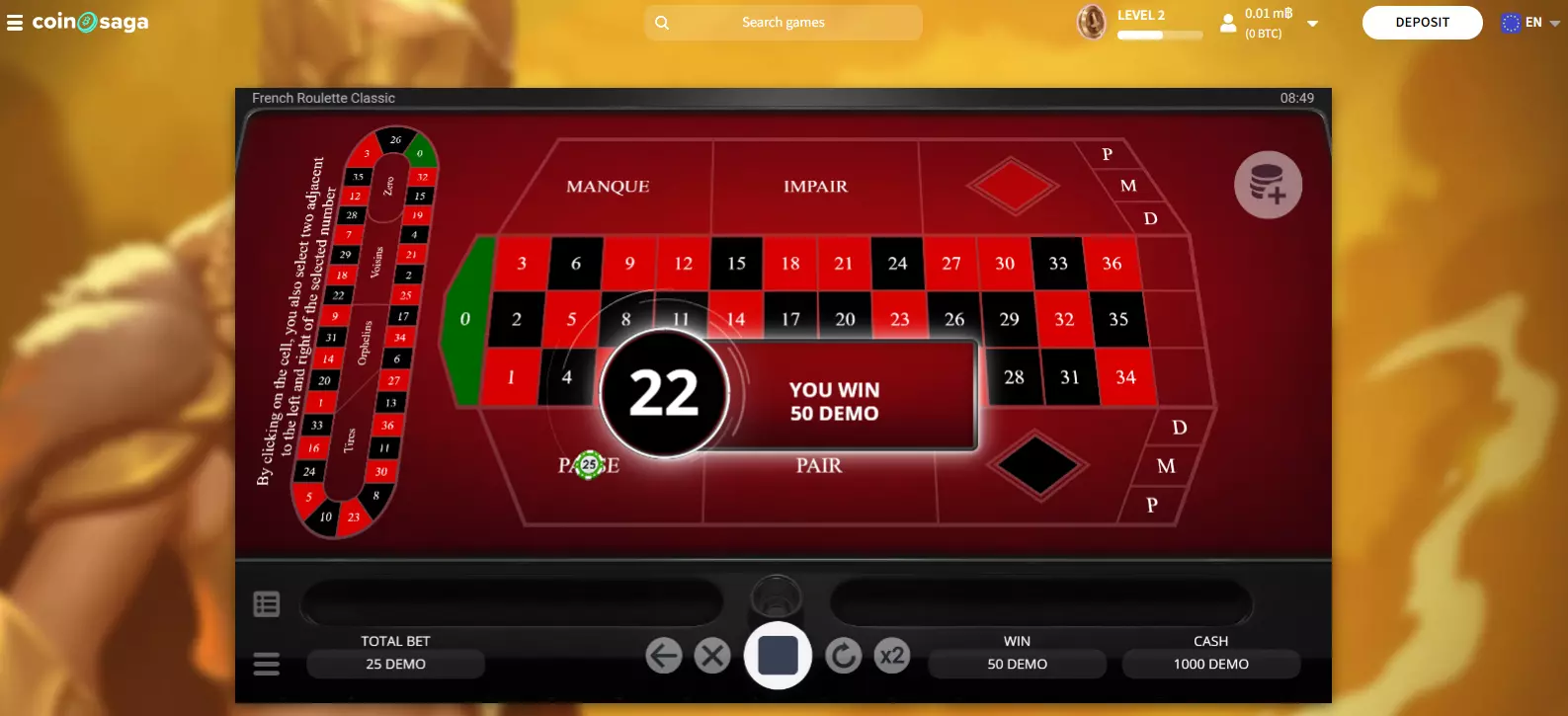 Call Bets
Besides the standard betting types, French Roulette Classic Casino Games come equipped with several wagers known as Call bets. Call bets are made on the racetrack visible on the left of the table. We will mention them briefly in this section of the French Roulette Casino Game review:
Voisins du Zero is a bet on 17 numbers including the 0. From number 22 on the left to 25 on the right of the racetrack.
Zero is a wager on the 7 numbers closest to 0. It's composed of 0, 12, 35, 3, 26, 32, and 15.
Tier is a wager on 12 adjoining numbers or a 1/3 of the roulette wheel. From #33 to #27.
Orphelins is a bet on the racetrack that consists of 8 numbers that weren't part in any other call bet system.
Voisine is a 5-numbers bet that includes the selected number + 2 neighbouring numbers on the left and right side respectively.
Extra Bets
3 additional betting options are available in this exciting Evoplay Entertainment production:
Finales en Plein means betting on all numbers that end in the same last digits. For example, Finales en Plein 2 would include the wheel slots 2, 12, 22, and 32.
Jeu 7/9 consists of 6 positions being occupied on the table. Straight bets are made on numbers 19 and 27, split bets are made on 7/8, 8/9, 17/18, and 28/29.
Finales en a cheval is similar to Finales en Plein bets. However, they involve wagers on the digits of 2 adjoining numbers on the Roulette table. Finales en a cheval 8/11, for example, includes the numbers 8, 11, 18, 21, 28, and 31.
The French Roulette Classic Paytable
In the table below, you can take a look at the payouts in this Table Game.
| | |
| --- | --- |
| Type of Bet | Payout |
| Straight | 35:1 |
| Split | 17:1 |
| Street | 11:1 |
| Corner | 8:1 |
| Line | 5:1 |
| Column | 2:1 |
| Dozen | 2:1 |
| Red or Black | 1:1 |
| Impair or Pair | 1:1 |
| Manque or Passe | 1:1 |
| Voisins du Zero | 8:1, 11:1, or 17:1 depending on the combination |
| Zero | 17:1 and 35:1 |
| Tier | 17:1 |
| Orphelins | 17:1 and 35:1 |
| Voisine | 35:1 |
| Finales en plein | 35:1 |
| Jeu 7/9 | 17:1 and 35:1 |
| Finales en a chavel | 17:1 and 35:1 |
French Roulette Classic Paytable
Unique Additions of French Online Roulette
At the beginning of our French Roulette Casino Game review, we mentioned 2 special rules: 'La Partage' and 'En Prison'.
*La Partage*
This rule refers to placed money on any outside bets where the payouts are 1:1. If the ball lands in the 0 pocket, the player loses only half of his wager and the other half is returned to the player.
*En Prison*
This rule applies to the same outside bets, as mentioned above. If the ball stops in a 0 slot, the player gets a chance to re-play the round. He can't change his bet, but he doesn't need to wager additional money. The wheel will be spun again, and if it lands in a position that corresponds with the player's bet, his stake will be returned. If the ball stops elsewhere, he loses his stake.
The Game Interface
Evoplay has designed this edition in a dark maroon colour. Very pleasant and easy on the eyes. The betting table is in the central position, and the racetrack is located on the left. The wheel isn't visible until bets have been placed and the play begins.
Underneath the table on the right, we can see different chip values, from 1 – 25. These are used to place bets on the table. Click on a chip and put it in its corresponding position. Click a 2nd time to double your initial stake. You can make just one or multiple wagers per round. The leftmost chip can be used to undo a bet before the wheel is spun. If you made many selections, but one of them is wrong, clear it with the X chip before you begin to play.
The total sum of your stake is visible on the bottom left. Just above it, you can see the history and the last 5 winning numbers.
The big round button at the bottom is to be used after you have placed your wagers and you are ready to spin the wheel. The X button on its left clears the table of any bets. The button of an arrow pointing to the left undoes the last decision. Click X2 to double your previous wager or the re-bet button to make the same wagers as in the previous round.
The button with the 3 horizontal lines on the left displays a quick access menu to the rules, paytable, betting history, and settings. You can also go into the full-screen mode or turn the sound on/off from here. The icon above it automatically opens the rulebook. An additional option is available in the top right corner. That is the Extra bets menu.
Bonus: The Martingale Strategy
Thanks for staying with us and reading our French Roulette Casino Game review. As a tip, we want to share with you a winning strategy that delivers results. It's called the Martingale strategy. You can apply it to any bet with a 1:1 payout.
Here is how it works with wagers on Black or Red:
Place 1 coin on the colour red. If you win, you will get 2 coins back. Now play with 1 coin on the opposite colour.
If you lose your initial stake, double it. From 1 to 2, from 2 to 4, etc.
Follow this strategy until you land a win.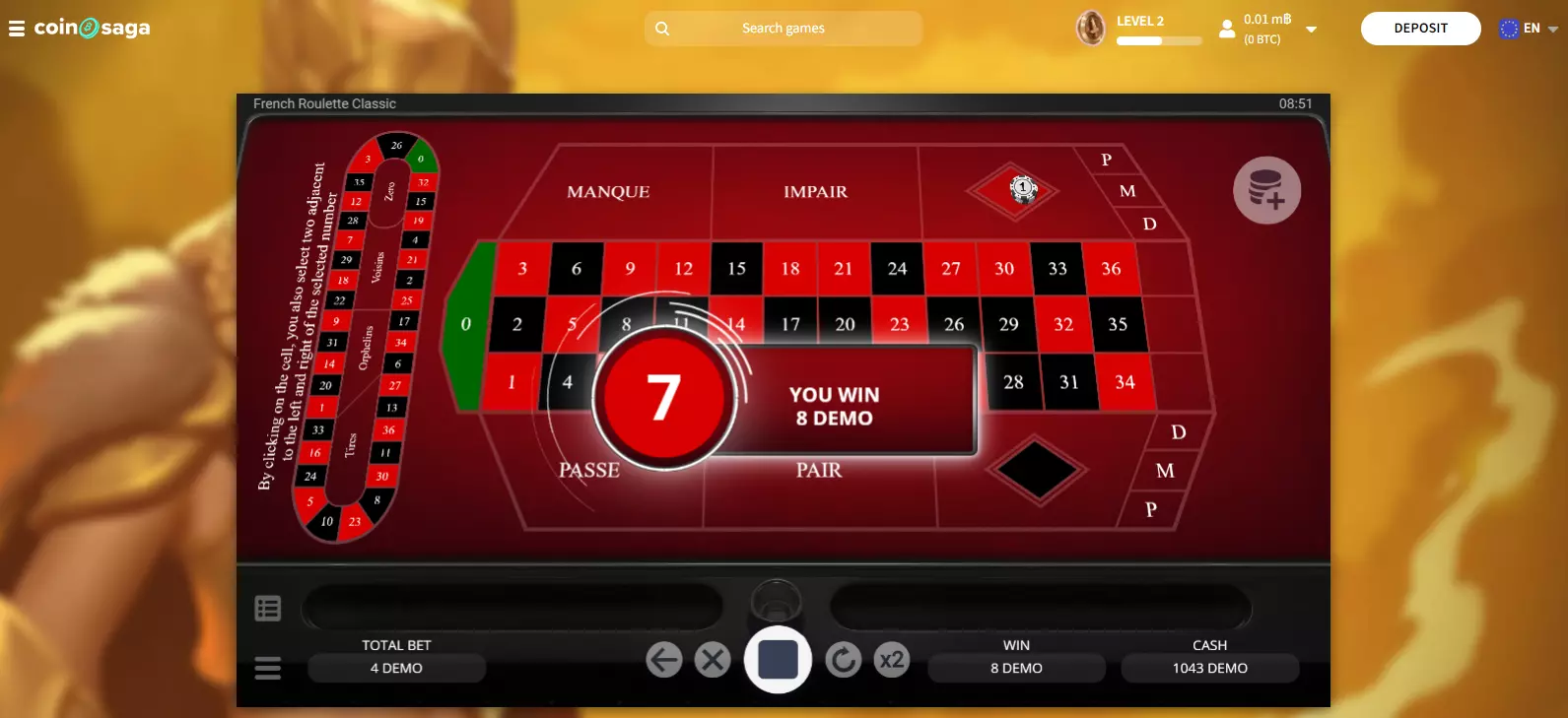 *The profit you make will always correspond to the sum of your first stake. If your initial stake is 5 coins, if and when you land a win, you will have profited 5 coins from it.
Conclusion
French online Roulette Classic is an excellent choice for a Table Game. It is one of the most popular types of Online Casino Games and well-represented in physical Casinos of Monte Carlo. It's got a high RTP percentage, lower house edge compared to its American and European rivals, and plenty of betting options. With the introduction of En Prison and La Partage, you get a chance to get your money back even when you are supposed to lose.
The betting range is extensive and will suit most gamblers. Depending on how much risk you are willing to take, you can win anywhere from 1 – 35.000 coins. Roulette should be played in a quiet environment, so we were pleased that Evoplay Entertainment didn't include a soundtrack with loud animations in their production. The music is soothing, and its volume can be turned down.
CoinSaga Online Casino also hosts a Live Dealer version of French Roulette. If you prefer Live Games operated by friendly Casino staff that are recorded in professional studios that resemble land-based Casinos, please check out the Live Casino offer on our platform. Leave a comment describing the strategies that work best for you, and tell us how good you are at predicting numbers.