Introduction
Welcome to the VIP disco where we will tell you how you can become a star in this Disco Danny slot review. Suit up, bring your best dance moves, and seduce the crowd with your skills. The 1970s where the golden era of disco music, but there can only be one disco king. Do you have the skills to be crowned the best? Put your roller skates on and let us see what you got.
| | |
| --- | --- |
| Max Win | 4.500x your bet |
| Min Bet | 0.10 coins |
| Max Bet | 250 coins |
| Return to Player (RTP) | 96 04% |
| Volatility | Medium/High |
| Free Spins Available | Yes |
When Danny Disco is dancing, he likes to be right below the mirror balls. That doesn't surprise us, considering the fortunes these shiny spinning balls bring. On the dance floor, there are two of these disco balls. Both function as scatters. Get your groove on under 3 silver balls to initiate the Free Spins bonus games. Swing your body under the golden disco ball to earn a straight payout with a fixed multiplier of 10x or 20x your bet.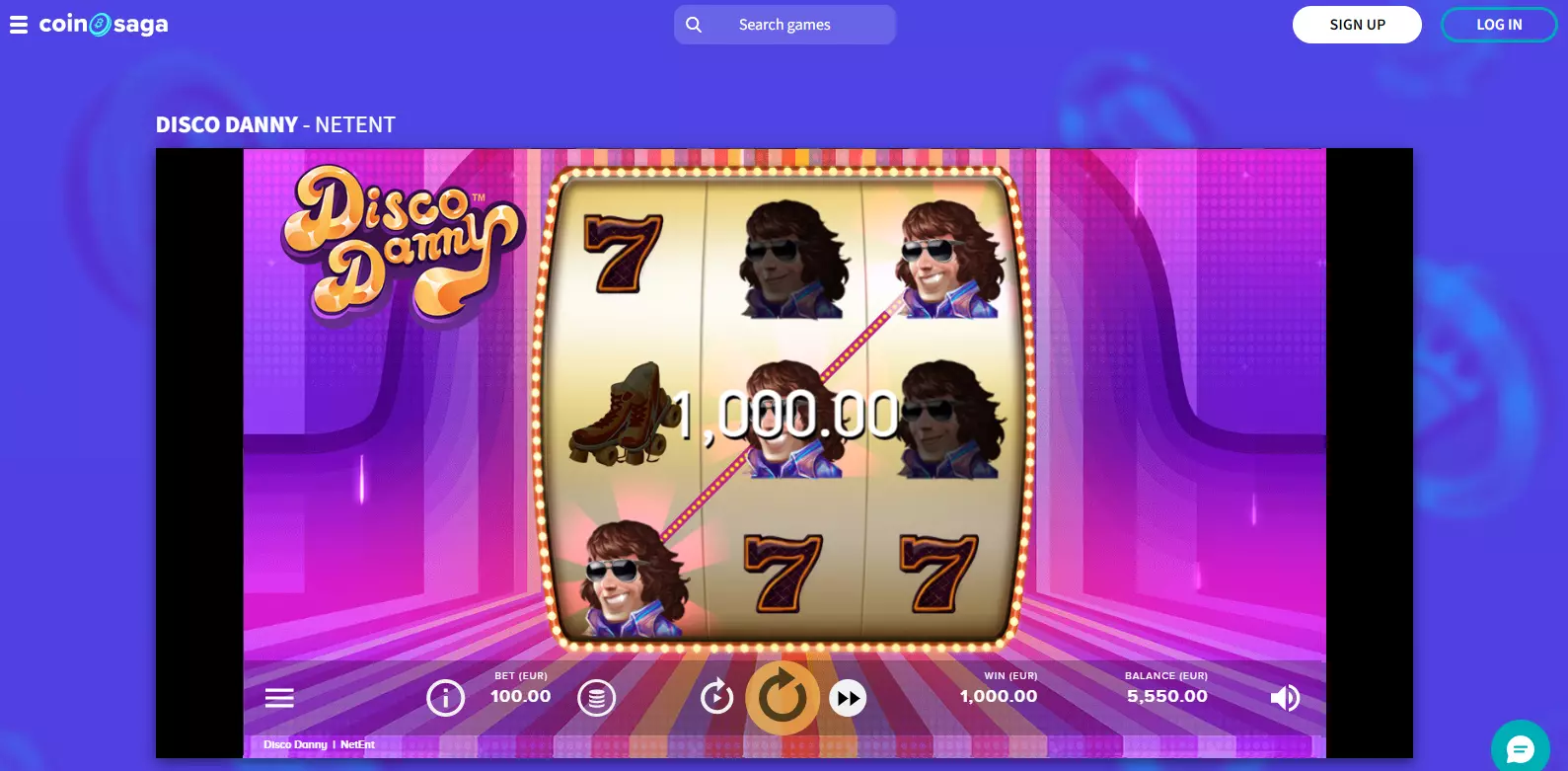 Disco Danny is a casino slot from NetEnt Games. It is played on a classic 3×3 reel formation that resembles the old fruit slots widely present in land-based casinos. It comes equipped with 5 fixed paylines, which means that the only valid winning combinations are 3 in a row from the left to the right side of the reels.
This disco theme NetEnt slot offers two unique scatter symbols, but interestingly, there are no wilds. That makes no difference though because NetEnt has introduced a Golden Scatter Symbol. The appearance of the golden ball anywhere on the playing grid results in immediate cash prizes.
This is a high volatility online slots game with an RTP percentage of 96.04%. In terms of payouts, you can earn up to 500x your stake during the base game, or the maximum 4.500 times your bet during the Free Spins feature. We will tell you all you need to know in the next parts of our Disco Danny slot review.
If you are a fan of NetEnt slots, check out what are the 20 most popular NetEnt slot games on online casinos of all times. Tonight, it is your time to shine on the dance floor with Disco Danny.
Slot Game Specifications
| | |
| --- | --- |
| Software Provider | NetEnt Games |
| Release Date | September 2020 |
| Slot Type | Video Slots |
| Number of Paylines | 5 |
| Reels Setup | 3 reels, 3 rows |
| Special Features | Free Spins, Silver Scatters, Golden Scatters, Multipliers, Combination Win Mechanics |
| Progressive Jackpot | No |
| Supported Devices | Desktop, Mobile, Tablet |
Scatters, Free Spins, and Multipliers
Discos and dance halls are all about light shows, style, and glamour. Disco Danny is no exception, and in this NetEnt slot game, two disco balls are the two integral bonus features.
Scatter Symbols
The scatters come in the form of mirror balls in the Disco Danny slot. There is a Silver Scatter and Gold Disco Scatter.
Golden Scatter
A golden disco ball can appear in any random position on the reels, both during the base game and the Free Spins mode. Once triggered, it pays out an instant cash prize of 10 or 20 times the player's stake. Only one of these random cash prizes can find its way on the reels per spin of Disco Danny, but the payouts are good enough to satisfy most players.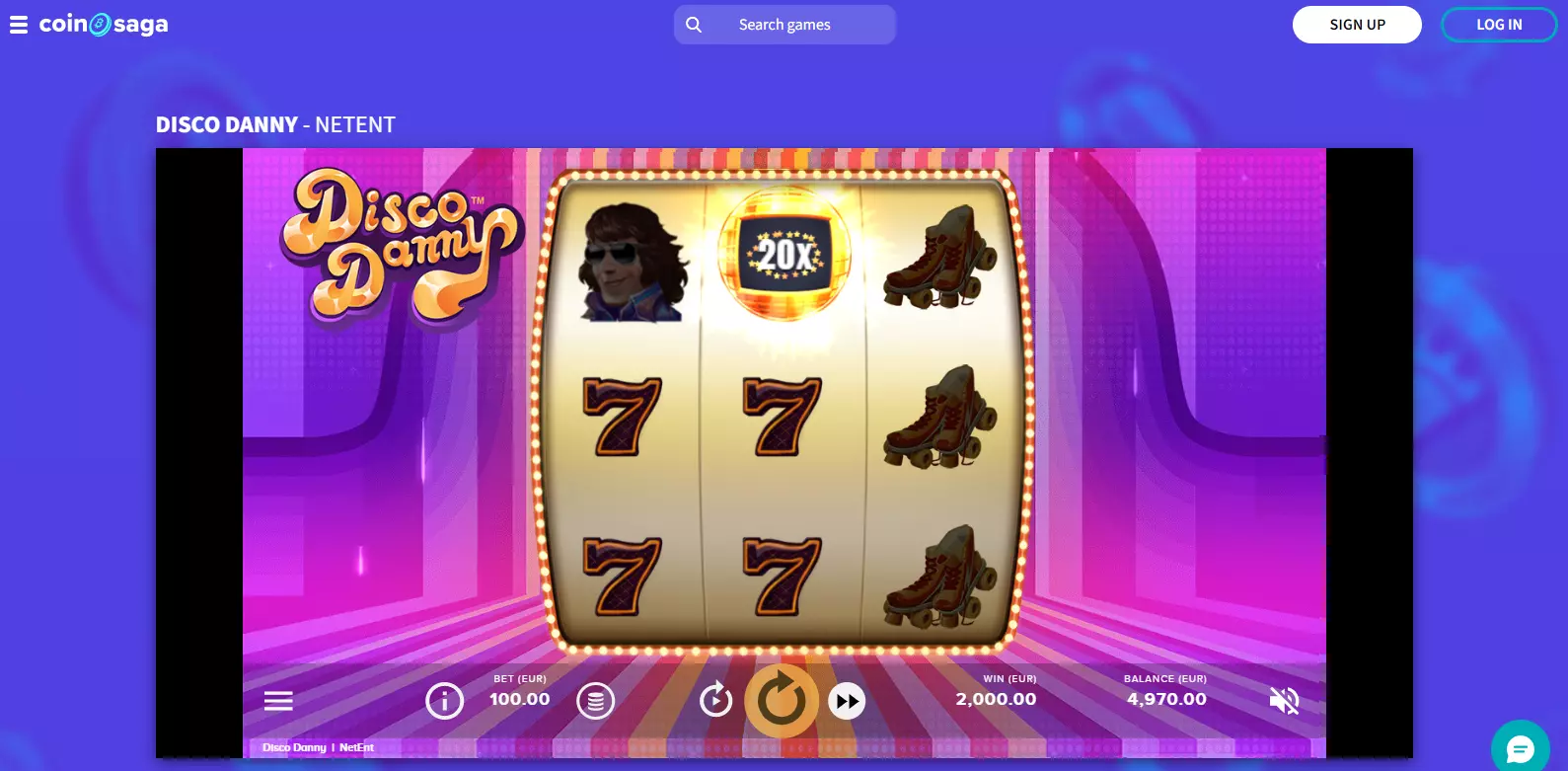 Silver Scatter
The silver scatters trigger the Free Spins feature which is the highlight of the Disco Danny NetEnt slot. This feature can be activated in two different ways:
Discover 3 Silver Scatter Mirror Balls anywhere on the reels.
Discover 2 Silver Scatter Mirror Balls and 1 Golden Ball Scatter anywhere on the reels.
Free Spins
When the conditions have been met, and Disco Danny is ready for a face-off, the player will be awarded 3 Free Spins. The re-spin bonus game has 5 different levels and 5 level multipliers associated with each cycle.
These are the multipliers that are featured at each level on online casinos:
| | |
| --- | --- |
| Level | Level Multiplier |
| 1 | X1 |
| 2 | X2 |
| 3 | X3 |
| 4 | X5 |
| 5 | X10 |
Stay with us to find out how to advance through the different levels in this Disco Danny slot review.
You will begin your adventure with Disco Danny at level #1 with an assigned x1 multiplier. When Free Spins rounds start, only Golden Scatter Symbols can appear on the grid, nothing else. The 3 disco balls that initiated the bonus games will become sticky and remain fixed in their place during each level.
Your goal is very simple. Collect as many golden mirror balls as possible. Each symbol you find will remain secure in its place for the remainder of the round. The discovery of new scatters re-triggers additional 3 Free Spins every time.
A Free Spins round can end if there are no more re-spins or if all nine positions on the reels have been filled with golden scatters. Each symbol carries a random golden multiplier from 1x – 50x. When the bonus games of Disco Danny are over, or if you reach the next level, all multipliers will be added up and multiplied with the level multiplier. This number will then be multiplied with the wager that initiated the Free Spins feature.
If the luck is on your side, you can win up to 4.500 times your wager if you manage to collect all the scatters when you play Disco Danny slot. Have fun while you play but don't forget to gamble responsibly.
Symbols, Payouts, and Game Settings
Symbols and Payouts
Danny, the dancing king, brings several distinctive symbols to the disco. Each one of them offers different payout potential. The Disco King is the highest paying logo. It shows Danny Disco wearing an Elvis style outfit with a golden dress shirt with an oversized collar and gold-coloured sunglasses.
The Disco King doesn't need to appear in one of the five payline combinations to trigger rewards. Get 3 Disco Kings anywhere on the reels to be rewarded with a 100x payout. A full playing grid of Disco Kings pays a maximum win of €25.000 reward. That is, unfortunately, not something we have yet encountered while writing this Disco Danny slot review.
There are 6 more icons in this game. A symbol of Disco Danny in his usual pink and purple outfit with black sunglasses pays up to €2.500 for 3 in a line. The roller skates offer up to €1.500, and the symbol we found appearing most is the red sevens logo. This lucky number rewards players with up to €1.000 in a correct combination.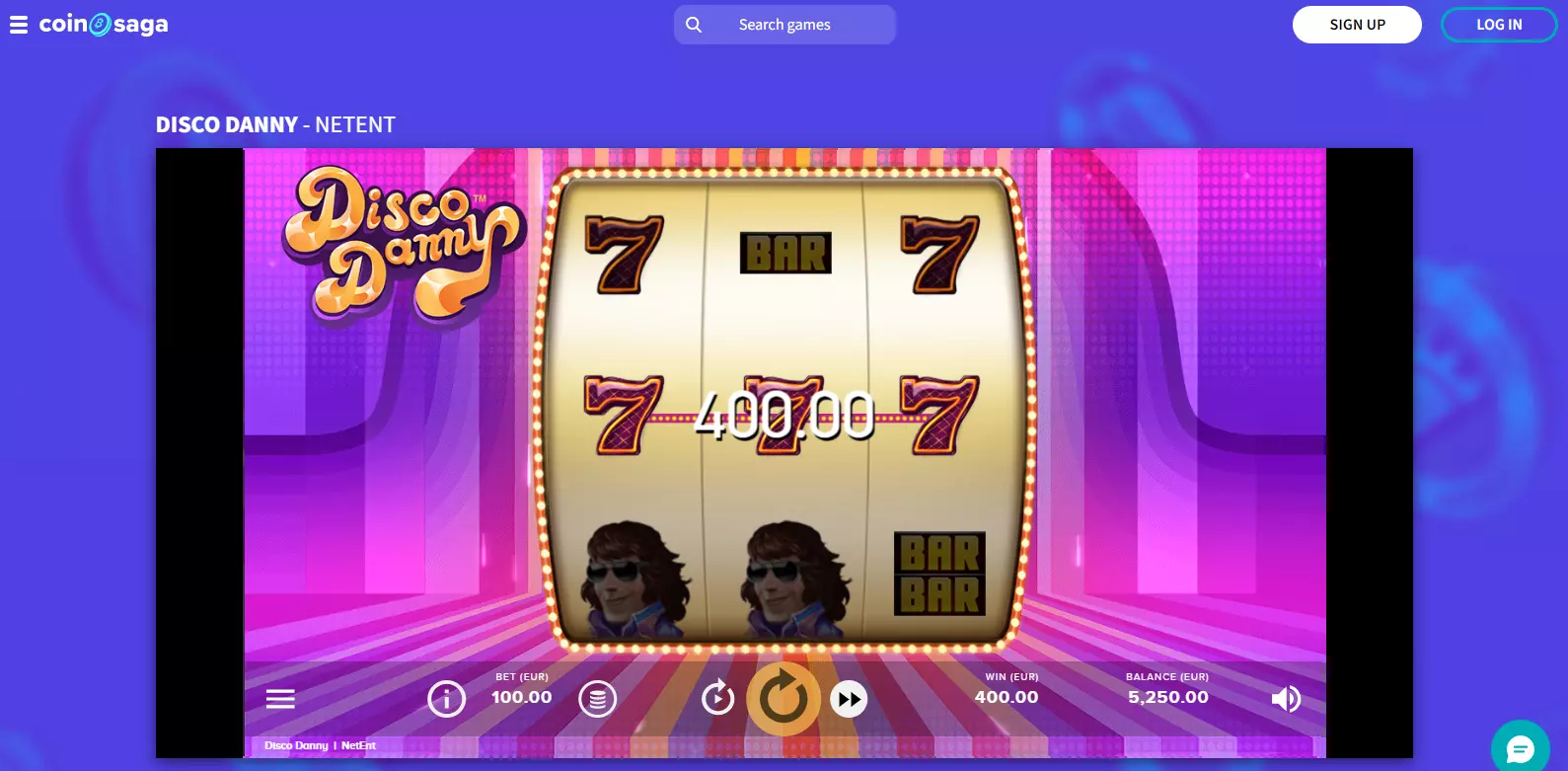 The three remaining symbols are the single bars, double bars, triple bars. What is special about these is the combination win mechanics they include. To get a payout in Disco Danny, you don't need to line up the same type of bar symbols. Any combination of the three will give you an appropriate reward.
Game Settings and Layout
Before you start competing for the title of Disco King of the 70s, you should make yourself familiar with the button layout and the different options this NetEnt slot game offers.
Before you play Disco Danny, you need to select your preferred bet per spin amount by clicking on the button on the left showing 3 coins stacked one on top of the other. The game is suited for casino high rollers and players of a more cautious nature. You can hit the dancefloor for as little as €0.10 or up to €250 per round.
The big round button under the middle reels of Disco Danny starts the spinning action. If you are like us and found that the spin animation is a tick too slow, you can trigger quick spins with a click on the fast forward button. A full-screen mode can be activated to widen the configuration.
This and other game settings can also be configured with a click on the 3 horizontal lines button in the far-left corner. I like playing my slots with the "Spacebar to spin" feature enabled because I find it brings improvements in overall game speed. You can enable/disable the intro screen or the option to show your bets in cash if you want.
The info icon displays all needed data regarding payouts, line combinations, and unique bonus features Disco Danny video slot contains. The last available option the players have on their disposal is the Autoplay feature. They can select 10, 25, 50, and up to 1.000 auto-spins at once. Your wins and balance are displayed on the bottom right, next to the volume slider.
Disco Danny Slot Review – Final Words
The video slot Disco Danny is as classic as it gets in terms of gameplay. The 3×3 reels formation reminds us of those slot machines we learned to love in physical casinos. The game misses a standard wild symbol, but comes fully equipped with 2 scatters instead. One of them triggers an automatic payout of 10x or 20x.
The second scatter symbols are the silver disco balls that assign Free Spins. A combination of 3 of these is tough to come by. When you finally get there, Disco Danny can award you with up to x50 multipliers per scatter symbol. Comment below and let us know what you think of the Disco Danny NetEnt slot game. Which multiplier level did you manage to reach in the highly volatile Free Spins Bonus rounds? To read the rest of our online slot reviews, please visit the CoinSaga Blog and check out what we have prepared for you. Players are welcome to try our CoinSaga casino bonuses available to new and existing players alike.