Coinsaga Bitcoin Casino offers lots of amazing jackpot slots with big prize pools. Here we review the best three jackpot slots at Coinsaga, which can be considered as life-changing. Turning you into an instant millionaire. The best three are Mega Moolah, Jackpot Rango, and Super Lucky Reels.
A jackpot slot offers prize pools that are not comparable to regular slots, and there are many reasons why you should play one of these slots at Coinsaga. First and foremost, they offer life-changing prizes that could make you a millionaire. Secondly, they offer multiple chances to win (for example, if you invest 10 euro cents per spin it means with 10 euros you buy 100 spins). They also offer bonus features as well as amazing 3D graphic design with different themes, real sounds and visuals. And, let's not forget, they are fun to play.
Mega Moolah Slot Machine
Mega Moolah is, without doubt, the king of jackpot slots, and any player at Coinsaga should try it at least once!
It is the flagship game of the developer Microgaming and offers the biggest prize pool in the slot game industry.
Mega Moolah offers four progressive jackpots in one – Mega (starting from 1 million), Major (starting from 10 thousand), Minor (starting from 100), and Mini (starting from 10) descending in order of size. You can be sure that if you hit one of these jackpots you will very likely become an instant millionaire!
Coinsaga provides different versions of this incredible slot machine including Mega Moolah, Mega Moolah Isis, and Mega Moolah Absolutely Mad.
The graphic design and reel symbols change with each slot, but your chances of winning the jackpot don't change!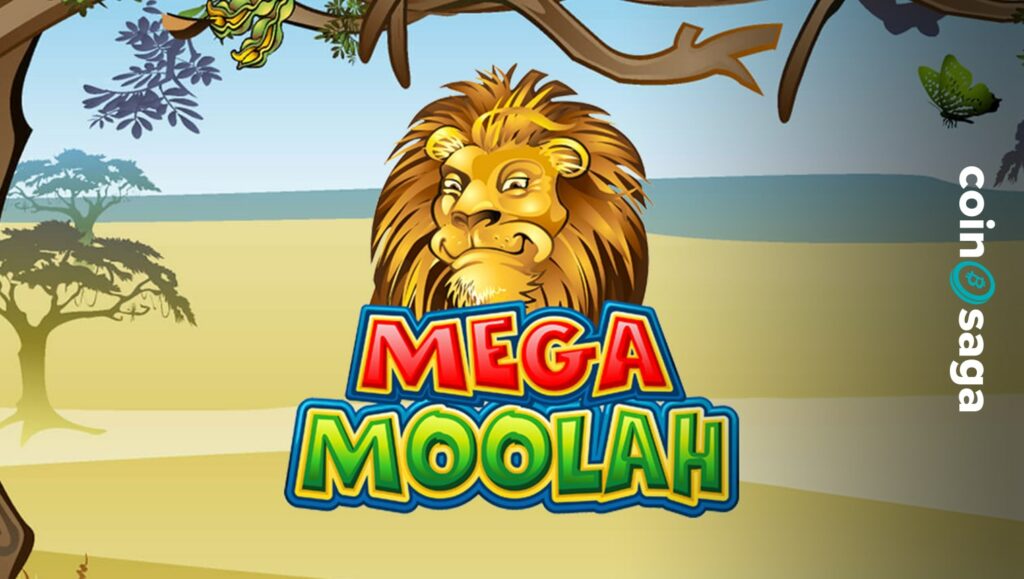 The Biggest Jackpots Ever Won
The Mega Moolah slot machine is a 5 reel, 25 win line, animal-themed slot, but above all, it is a massive progressive jackpot slot, which drops around twice or so each year. Massive is probably the right word for a slot that paid out a Guiness Book of World Record €17,879,645 prize to a casino player in 2015, with a stake of just 25 cents!
Other big wins include Georgios M from Greece who won €6.3 million with a €5 stake, or Mr Jon Heywood, who won £13.5 million with a £0.25 per spin in 2016!
Mega Moolah Slot Game Features
Software: Microgaming
Progressive Jackpot
5 reels, 3 rows, 25 pay lines
Bet size: 0.01 – 6.25 per bet value
Maximum win: 225 000 coin maximum win
Game Characteristics: Free spins, wilds, multipliers, scatters, randomly triggered bonus game, four jackpots
RTP: 88.12% , with jackpot up to 96,92%
Volaitlity: Low/Medium
What is the RTP (Return To Player) and Volatility of Mega Moolah
The RTP of this slot machine is 88.12%. This is very low for an online slot, but you do have to consider that this is only for the base game because the jackpot winnings are not included in the RTP.
Usually, progressive slots take a portion of your stake to increase the jackpot pool. Mega Moolah is a unique slot with four jackpots, which add 8,80% to the RTP to make it a very good 96,92%. This means that the majority of the payout goes to the jackpot winner. However, although only a very small number of players will hit the mega jackpots, a huge number will get smaller jackpots, which makes gameplay amazing!
Moreover, the volatility is low, which means it offers small winnings often. But of course, this is true until you hit the Mega and Major jackpots.
As you'll read in our tips below, we advise checking the jackpot graphics to track the velocity, which shows how quickly a jackpot is growing, showing the velocity of how soon it will reach its peak value.
Can I Play Mega Moolah With Bitcoin at Coinsaga?
Yes, you can play at Coinsaga with Bitcoin and all other cryptocurrencies (Ethereum, Litecoin, Ripple, Dogecoin, etc.), and also with Fiat (Euro, USD, Pound, Yen, etc.).
Understanding the slot
Before starting to play Mega Moolah check the game rules thoroughly, this is very important especially because it's not possible to test the Mega Moolah jackpot slot for free. There is no free mode for this slot because the game prize pool is constantly updating, so playing in demo mode.
Jackpot Rango Slot On The Block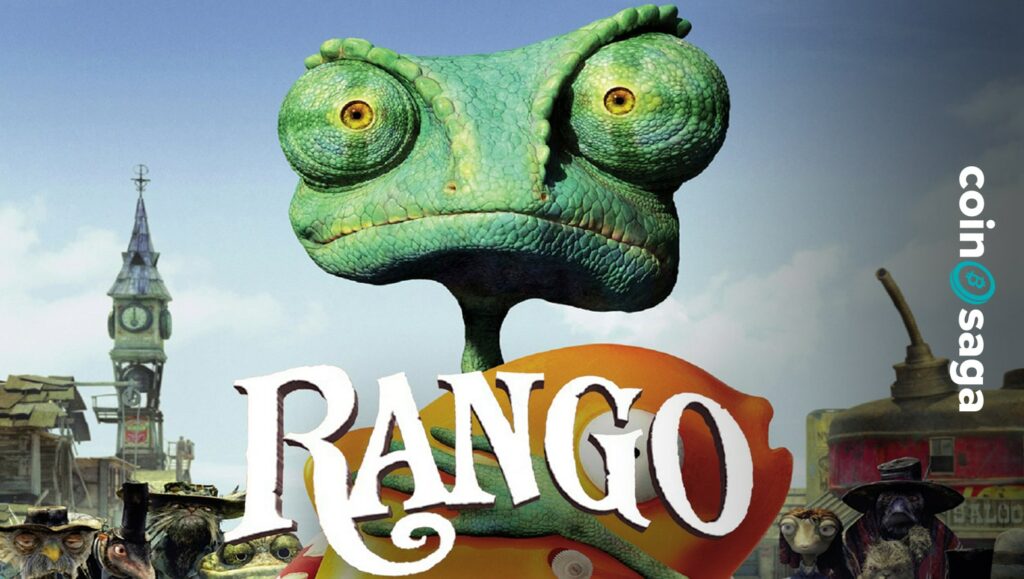 The second best jackpot slot at Coinsaga Bitcoin Casino is the amazing Jackpot Rango slot machine, which offers 3 rows, 5 reels, and 25 paylines.
Jackpot Rango was developed by Isoftbet and is based on the 2011 3D cartoon movie, starring Johnny Depp. The graphic design of the slot is really cool and it is taken from the movie, but the most important thing to point out with this slot is undoubtedly the fact that it is a progressive jackpot slot. Itis possible to trigger the jackpot by hitting the five progressive symbols on the reels while playing with a maximum stake.
Jackpot Rango Slot Game Features
Software: iSoftBet
Slot Type: Progressive Jackpot Slot Game
Paylines: 25
Reels: 5
Coins range: 0.01 – 0.50
Min/Max bet: 0.25 (or 2.50 for jackpot) / 125
RTP: 94,6%
Volatility: Low
Free spins: 10 Free Spin up to 8x Multipliers
Bonus rounds: Free Spins and Sticky Wilds
Slot Theme: TV & Film
Jackpot Rango is a 5 reel, 25 pay lines slot, with all the character taken from the cartoon such as the star Rango, along with Rattlesnake Jake, Mayor John, Beans, Priscilla, and one member of the Mariachi band. The symbols on the reels also include the cards from 9 to the Ace symbol.
Rattlesnake Jake takes the Wild role on the slot. He covers any symbol on the reels, except for the Jackpot Progressive symbols and the Scatters, to complete any potential winning combinations on the reels.
Free Spins Feature
Jackpot Rango also provides a nice free spin feature, which is triggered when you hit three or more Rango Sheriff badges. This gives you an additional 10 free spins, which allow you to get multiplier wins.
If you hit a winning combination with one Wild (Rattlesnake Jake) you get a x2 multiplier. If you hit a winning combination with two Wilds you get a 4x multiplier. If you hit a winning combination with three Wilds then you get an 8x multiplier.
In conclusion, we can say that the Jackpot Rango mobile slot offers a really good jackpot and plenty of free spins. Jackpot Rango Slot requests a minimum bet of 0,25 cents for the base game, and 2.50 (a bit high) to play for the jackpot, which automatically makes Rango affordable for a smaller number of players.
Super Lucky Reels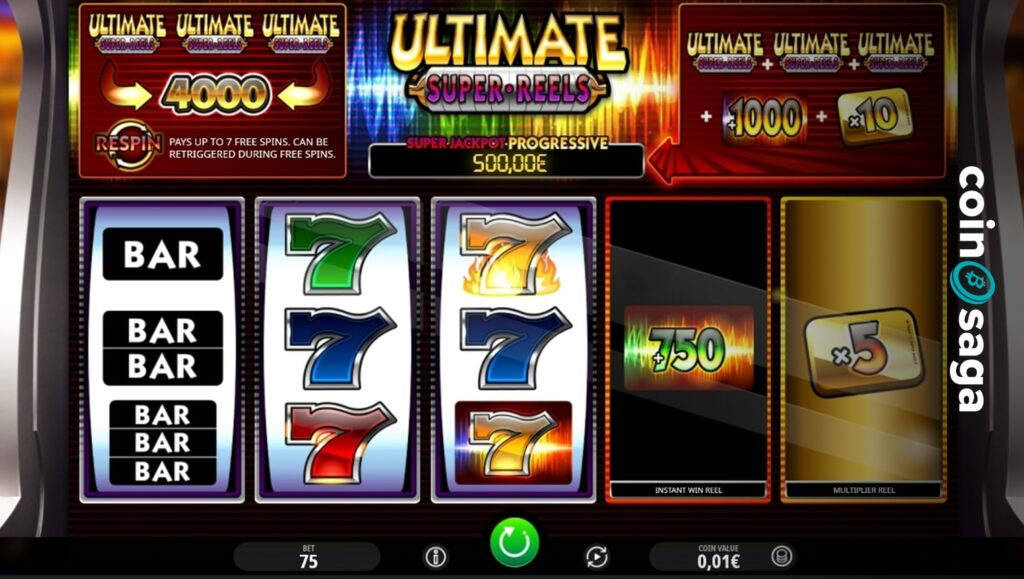 Welcome to one of the most interesting Coinsaga jackpot slots – Super Lucky Reels. At Super Lucky Reels, developed by ISoftbet, you play with 3 reels, which become 5 giving you additional multipliers and chances to win, and if you get the right combination you can hit the big jackpot! What could be more simple and exciting?
You will find that sevens and bars are the only symbols that appear, aside from the Super Reels logo.
To play this jackpot slot is super simple and easy to understand, your spin needs to land on three logo symbols on a pay line, with a +1,000 symbol on reel 4 and x10 win reel on 5.
The classic theme is cool giving the game a vintage touch, and the idea of two additional bars work very well as a multiplier.
Super Lucky Reels slot is perfectly suited to mobile slot lovers, and we have to say that this slot is so fun and easy to play that it will for sure capture your attention in your search for the jackpot!
How the Super Reels Jackpot Works?
You can spin at a minimum of 0.05, by placing a bet of 10 coins (min. of 0.50 cents) you activate the fourth reel to a winning payline. While if you bet 15 coins (min.0,75 cents) you activate the fifth reel, which brings you interesting multipliers of x2, x5, and x10 your stake with the added free spin possibility.
With all 5 reels you have the chance to get the jackpot, while with three reels it remains the traditional slot concept.
So the slot is very focused on the jackpot, and the good thing is that it allows you to play for a long time with a small budget.
So, as we said above, you need to bet a minimum of 0.75 to trigger the jackpot. That said, the more you bet, the higher the progressive jackpot will pay back to you.
It's a jackpot slot where the more you play, the more you can win.
Super Reels Slot Game Features
Provider: Isoftbet
RTP: 96,5%
Volatility: Medium/High
Betways: 5
7 Smart Tips from Coinsaga to Win the Big Jackpot
As a slot player, you probably know that winning the biggest jackpot available isn't easy…but still, if there isn't a recipe to win there are tips to push up your odds and chances of winning, together with a strong dose of luck, of course. Coinsaga Bitcoin Casino highlights the 7 most important tips that could make a difference in your gameplay at our slot machines!
Play Max Bet
Progressive jackpots do not require you to place a wager above a specific amount if you want to be eligible to hit the Mega Jackpot. Placing a large stake gives you a big chance to trigger the jackpot. So placing the max stake increases your chances of winning the jackpot.
Play Long Term Spins (Don't play Short Spin)
On the contrary, some players prefer to maximise the number of spins played, which means they place the minimum wager and take advantage of the autoplay feature.
Use All Bonuses Offered
Most casino welcome bonuses are geared towards playing slots. Some operators give you extra money, while others offer free spins or a mix between the two. Even though there are wagering requirements towards your winnings, a bigger bonus gives you more chances to trigger the jackpot. Playing with the maximum bet or increasing the number of spins is the main way of attacking the jackpot.
Keep an Eye on the Jackpot Graphics.
If the jackpot has been won recently, don't play that slot. Once the jackpot is won it takes time to recreate itself, and the odds are against you.
Many players pay attention to the velocity with which the progressive jackpot is growing. These graphs can help you determine whether the jackpot is hot and due to fall soon. However, higher jackpot velocity also indicates that competition is increasing. If the jackpot is rising fast, this means that more people are placing bets.
Strategies for Winning Jackpot Slot Games
Organize your game session and plan ahead, be disciplined with money, if you have spent your previously agreed bankroll stop playing!
Understanding the slot: Knowledge is Power
Study the odds of winning and rules, the game mechanics, reels, symbols, and bonus features, and then start to play – knowledge is power.
Check the average time between payouts
This is a good parameter to determine when the jackpot will drop again, like Mega Moolah which pays out more or less in the same period of the year (around every 17 weeks)
Local vs Network jackpots
There are two types of jackpots available, one is local which is linked to a specific online casino, and is generated by each player who plays at that casino.
On the other hand, a network or progressive jackpot is a jackpot produced by different players from different online casinos. As is easily understandable, a network progressive jackpot offers bigger prize pools.
Set Up Your Bankroll
Set up the amount of money you are able to lose. It is strongly advised to set up your loss limit.
In this way, you don't go over your funds, and it is also advisable to split the bankroll across different days and in different amounts.
Only play online slots with an RTP of 95% or higher.
Play in free mode before risking your money.