What's the Hit of Live Speed Baccarat?
If you hate wasting time and love your Baccarat fast, Live Speed Baccarat is your game.
The main feature you will find at CoinSaga's Live Speed Baccarat table is that you have just 10 seconds to place a bet, instead of the usual 15 seconds betting period you get at other baccarat tables. That is why Live Speed Baccarat is a so-called fast-paced game.
The baccarat game has a good Return to Player (RTP) of 98.94%, which means for every 100 euros you stake, €98.94 will be paid back to you on average. It gets even more interesting if you play the so-called Side Bets (check out the payout table below), where the payout is high, for example the Perfect Pair side bet, which pays out 25:1.
Moreover, the Baccarat table has a lot of other side bets with bigger possible wins, not only the standard Banker, Player, and Tie bets.
The minimum bet is €1 and the maximum bet allowed is €5000, allowing anyone a seat at the Live Speed Baccarat table regardless of your bankroll.
Keep reading to discover our 3 top tips to win more and discover how to play Live Speed Baccarat by Evolution Gaming at CoinSaga.com.
How to Play Live Speed Baccarat
Live Speed Baccarat by Evolution Gaming is played using 8 decks of 52 cards, as per standard rules.
Ace's value is 1, while the 10, Jack, Queen, and King cards value is 0. In order from the lowest value to greatest, the cards are valued as follows: 10/Jack/Queen/King Ace-2-3-4-5-6-7-8-9.
Placing a bet at Live Speed Baccarat is super easy, just click on the selected bet, the bets can be on the Player, the Banker, on the Tie, or side bets.
The Player and Banker odds are 1 to 1, but remember that the Banker usually takes a commission of 5%, so the total payout for Banker bets is 0.95 to 1.
While the Tie bet pays out 8 to 1, and all other bets are 'pushed' or returned.
At Live Speed Baccarat you only have a 10 second betting period.
Then the banker deals two cards for each player and for himself, which form the initial two-card hands.
After that, and according to the combination of cards, the player(s) and banker make their choice to hit or stand.
For example, if you add your two cards together and they go over 9 to 10 or above, then only the last digit is counted. This means that getting an 18 gives you an 8, and getting a 21 gives you a 1.
Another rule is that if you get an initial total of 0 to 5, you will be dealt a third card. Getting a 6 to 9 forces you to stand and you're not in a position to get any more cards. And if you get an 8 or 9, it is a so-called a 'natural' hand, meaning that no matter what the banker's hand value is, whether it be a 0 or 3, they can't ask for a 3rd card.
There are specific rules when the Banker can draw a third card, you can check them in the menu bar of the game.
What are the Live Speed Baccarat Payouts & RTP (Return to Player)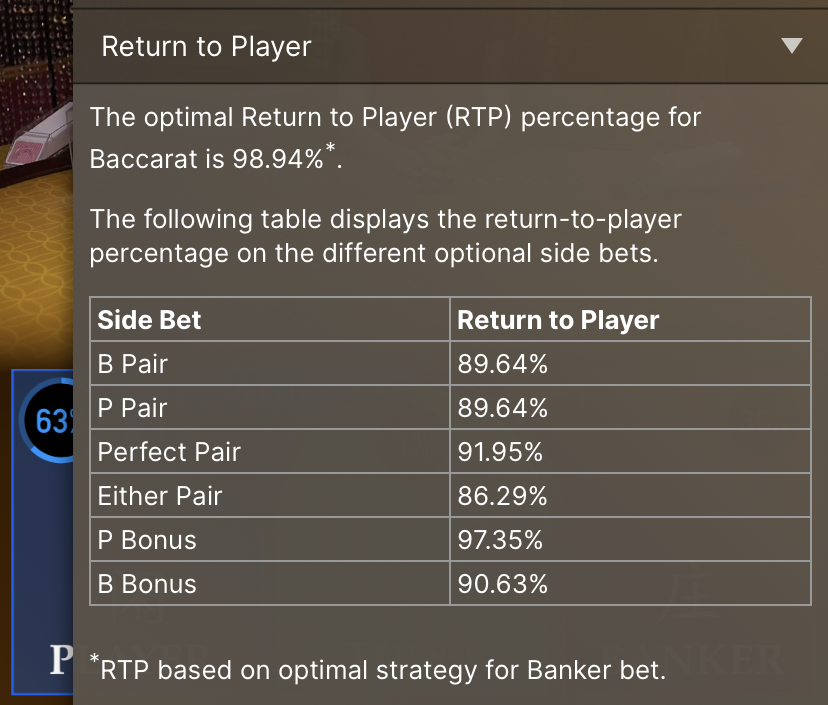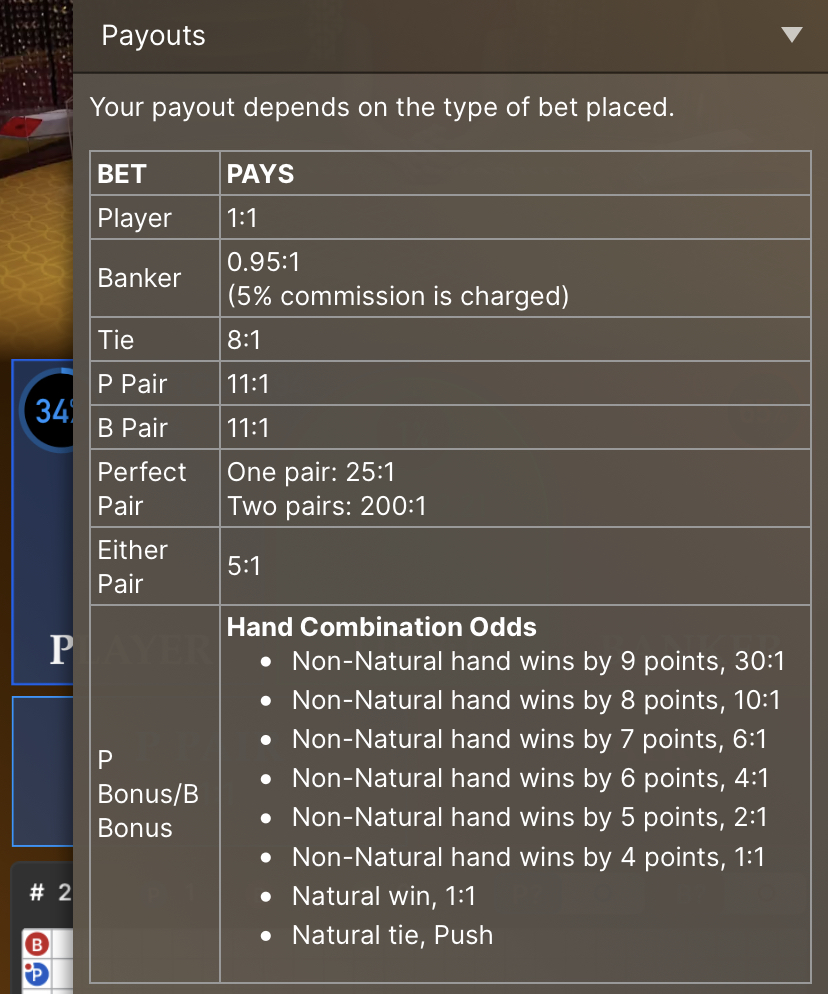 3 Tips to Win at Live Speed Baccarat
The Speed Baccarat rules are the same as standard Baccarat, except for the fact that you have just 10 seconds to place bets. Having so little time to place a bet means there is not enough time to create your own strategy. Therefore, here are 3 very effective and clear tips for playing at the Live Speed Baccarat table.
Don't follow patterns – Numbers don't have memories. So despite how it may look like there is a pattern, this is not true. Therefore, don't get behind hot or cold streaks, each number is a separate and unique event.
Betting on the Banker – This is the safest and statistically the best bet at a live baccarat table. You don't have much time to place a bet at the speed baccarat table, and betting on banker can still guarantee you a good margin. In the long run, the banker bet typically win 50.68% versus 49.32% on the player bet.
Forget the Tie Bet – The promise of a large payout (8 to 1) is tempting, but don't fall for it. The Tie bet has the worst odds at a live baccarat casino table. Remember that the Tie Bet only pays out 9,6% of the time, the Banker's hand wins 45.8% of the time, and the Player's hand 44.6%.