Speed Blackjack (Evolution Gaming is the provider) has the same game rules as standard Live Blackjack, but with one important difference. In this live game, the dealing order is not the standard left to right, but the player who makes the fastest decision receives the third card first.
So, every player has the same opportunity to Hit, Double Down or call a Split, but who makes their decision the fastest will be the first to receive the third card.
This is the groundbreaking feature of this live table. You make the choice when you're ready, you don't have to wait anymore.
The fastest player to hit the next card gains better control. This speed and unordered approach doesn't have an impact on the game probabilities and payouts of the game, but it does reduce the long waiting times for faster players.
Speed Blackjack is faster than standard live blackjack by 30%/40%, while giving players extra power to control the game by reducing waiting times.
By reading on you will discover how to play live Speed Blackjack, the rules, the frequently asked questions, RTP and payouts, as well as four unmissable tips…
What Are The Rules Of Speed Blackjack?
The goal of Speed Blackjack is the same as regular Blackjack, to have a higher total than the dealer".
The key rules at the Speed Live Blackjack table are as follows:
Each table has seven available seats
The game is played using eight standard 52 card decks
No random shuffle, manual shuffle available
Dealer cards one face down, one face-up
Dealer stands on all 17's (hard or soft)
Doubling after splitting is allowed
Doubling any two cards is allowed
No hit on split Aces (one card per Ace only)
Re-splitting is not available
Insurance bet available
Bet behind available
Side bets available: 21+3, Perfect Pairs
If you are aware of these rules, the house margin will only be 0.73%. The 21+3 side bet house margin is 6,29%, and the perfect pairs side bet is around 4.10%. It provides a feature called pre-decision where you can make a decision while waiting for your turn to speed things up (this feature is similar to poker).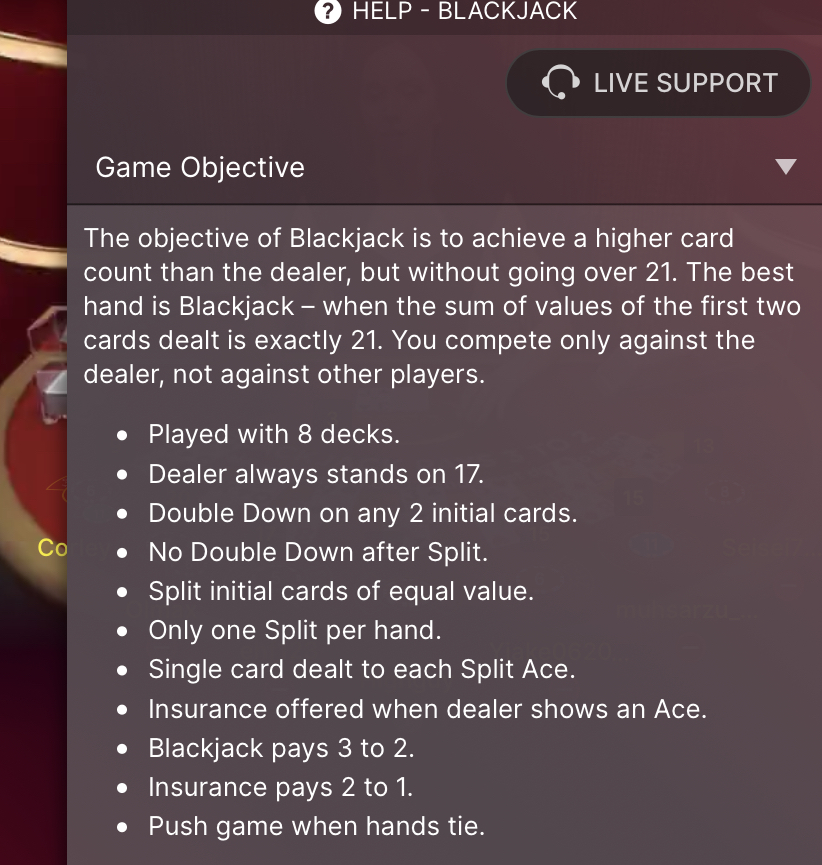 Speed Blackjack Side Bets
Three optional Side Bets are available and playable together with the main Speed Blackjack hand.
The three side bets available are: Perfect Pairs, 21+3 and Bet Behind.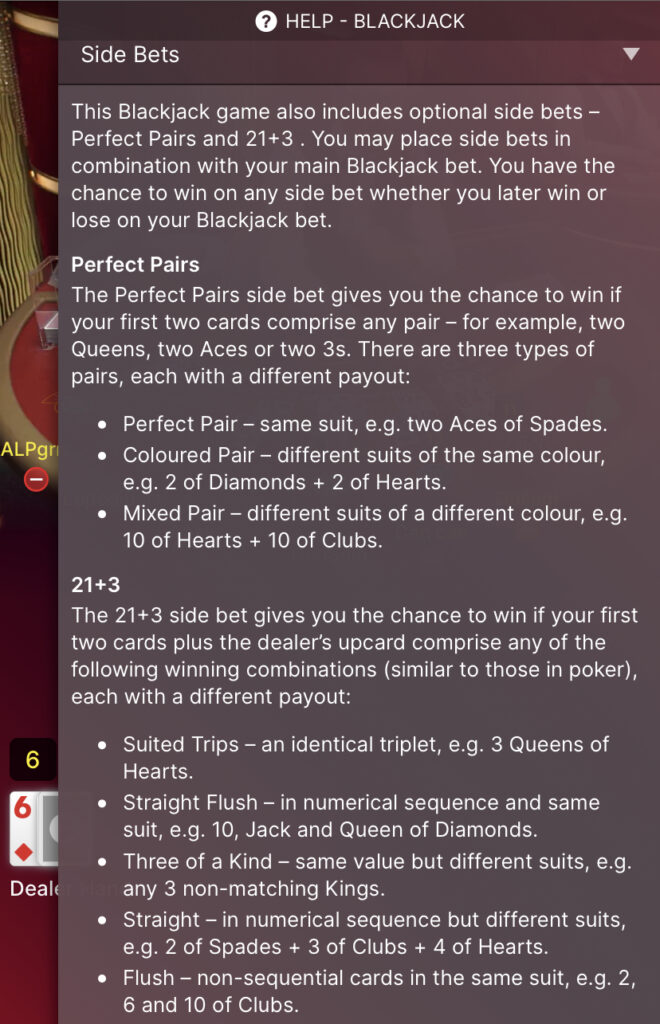 Payout & RTP (Return To Player):
In these graphics, you can easily understand what the theoretical level of return to player is as well as the payouts for the game.

4 Unmissable Tips for Speed Blackjack
Know the game rules:
learn the basics of Blackjack. For example, the number of decks of cards used in Blackjack generally varies from 1 to 8. If you play at a table with one deck, the house margin is a tight 0.17%, while if the game is played with eight decks, the house margin is 0.66%.
Reduce the House Margin:
Check the images in the RTP and payouts section above.
Know When to Hit, Stand or Double
Card Counting (for land-based casinos):
This is an old strategy, but it is always very effective. With this strategy, you can keep track of the dealt cards to figure out when you have higher odds or if they favor the dealer. Many pro Blackjack players suggest to count cards from 2 to 6 as +1, from 7 to 9 as zero and 10, Jack, Queen, King and Ace as -1. We have to say that card counting is not applicable at an online casino because of the software rules.
Frequently Asked Questions (FAQ)
How Much Faster Is Speed Blackjack Than Standard Blackjack?
Speed Blackjack is about 30%-40% faster than standard live blackjack.
How Many Decks Of Cards Are Used In Speed Blackjack?
The game is played with eight decks, (52 cards each).
What Is The RTP Of Speed Blackjack?
In the long run, the RTP for the standard live game is 99,29%. While for side bets the perfect pair is 95,90% , 21+3 is 96,30%, but the side bets have bigger payouts (as you can see in the above image).
Are Side Bets Allowed In Speed Blackjack?
Yes, there are three optional Side Bets allowed at Speed Blackjack (check the section above Speed Blackjack Side Bets)
Is There An Auto Play Button In Speed Blackjack?
Yes, two AutoPlay features have been added: If you do not respond in time, any hand with more than number 12 will stand.
If you have 11 or less and you don't respond in time, you will be Hit with another card.
What Are The Similarities Between Standard Blackjack And Speed Blackjack?
The dealer stands on all 17's (Soft or Hard). There is Double Down on the first two cards. Both games are played with eight decks with 52 cards in each. You can split any pair. Split aces means only one card. Blackjack pays 3:2, while the insurance bet is paid 1:1
What Are The Main Differences Between Standard Blackjack And Speed Blackjack?
The betting decision is reduced by 7 seconds, to speed up the game. The player with the fastest decision gets dealt the third card first. Auto Stand on hands with 12 or more. Auto Hit with 11 or less if a player times out. The game is faster than standard Blackjack by around 30%/40%.
Is The Bet Behind Allowed In Speed Blackjack?
Yes, this is possible. There is an option where you can automatically select what to do if a player doubles or splits their hand. This is generally a useful and smart strategy to follow when you are on a winning streak.