Short Intro
Lightning Dice is a live dice game provided by Evolution Gaming. It is a straightforward live game played with three dice with a value from 1 to 6. All you have to do is predict the result of the roll of these three dice.
Lightning Dice Live is an exhilarating game with special effects and potential big wins in a perfect jackpot slot style. This is thanks to the lightning power! Which creates crazy multipliers up to 1000x on the winning number, making this game unique and special.
To learn more about lighnting live dice, including its RTP and payouts, keep reading! You will also find some tips to improve your chances of winning too…
How to Play Lightning Dice Live
In Lightning Dice Live all you have to do is guess the result of the roll of three dice. There are a total of 16 possible outcomes, and, as a result, 16 possible betting options.
Each betting option has a different payouts table (see table below). Lightning Dice offers more bet combinations than Live Sic Bo, which is much simpler to play.
To play Lightning Dice, you must choose on one of the 16 betting options, and place your bet.
Lightning Strikes – Random Multipliers
What makes Lightning Dice Live unique is the random multiplier that boosts the payout on the numbers randomly selected by up to 1000x.
Once your bet has been placed on one of the 16 betting options, a Lightning Round will appear and apply random multipliers to a selection of the options. These extra-large payouts increase the normal payout a lot.

The maximum multipliers that can be applied on different betting options are:
Total 3 or 18 = 1000x
Total 4 of 17 = 500x
Total 5 or 16 = 250x
Total 6 or 15 = 100x
Total 7 or 14 = 100x
Total 8 or 13 = 50x
Total 9 or 12 = 50x
Total 10 or 11 = 50x
After the Lightning Round is complete and all multipliers have been applied, the dealer pulls the lever and the three dice dropdown. If you picked the right number, you will get a payout.
The recent winning numbers are shown in the bottom right of the page, together with the wins with multipliers applied (in gold).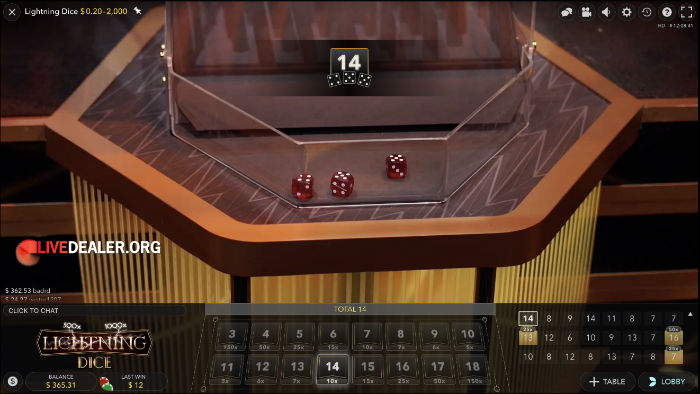 For the complete lightning dice rules check the HELP section of the game, here.
Lightening Dice Return to Player (RTP)
The RTP on Lightning Dice is good. Theoretically, in the long run, the games offer an RTP between 96,03% and 96,21%.
The best bet is on number 3 or 18, which offer you the best RTP in the game at 96.21%. As you can see below the payouts applying to all the bets are displayed in the bet selector.

Best Tips And Strategies for Lightning Dice
Bets on 3 and 18, Numbers a la carte, 3 and 18 have the best RTP available in the game, and also provide the chance to hit the 1000x multiplier.
Check the recent winning numbers. This can help you to decide which number to bet on next.
Place bets on totals with a better chance and higher probability, for instance, a sum of 9, 10, 11, 12. That's because they have more possible combinations and likelihood to appear.
Set up your bankroll before you start playing. Remember Lightning Dice Live is game of luck. Define a good strategy for your bankroll. Set up a maximum amount you are able to bet.
Choose your basic bet and turn on the automatic bet option. Lightning dice is a quick game, it is easy to miss a round.
Play Lightning Dice Live now
Enjoy the fast-paced, fun and unique Lightning Dice Live at CoinSaga. New players can benefit from a Live Casino Welcome Bonus worth up to 1BTC! – Play Now