Familiarise yourself with the world of French Roulette and its special roulette table with a unique red layout in typical Monte Carlo style, including having bets written in French (for example, passe, manque, pair, impair). The most important aspect to keep in mind is that this roulette variant uses the La Partage rule, which brings the house edge at 1,35%, which is the lowest house margin for a roulette table.
Discover the French roulette table and its great rule, where players can get back half of their wagered bet if the ball lands on zero (0) and where the RTP is the best around, at 98.65%.
French Roulette is provided by Evolution Gaming, who live stream the game from Latvia and have made it available to be played on all devices.
How to Play French Roulette
The aim of the game when it comes to French Roulette is to predict on which number the ball will land. The wheel is made up 36 numbers (1-36), plus a single zero (0). As simple as that, apparently.
The screen includes chips from 1 till 100 and players can choose multiple bets on the roulette, the so called inside or outside bets.
The inside bets of roulette are the famous Straight Up Bet (bet on single number); the Split Bet (place your bet on the line between two numbers); the Corner Bet (place your bet at the corner where the four numbers cross; the Line Bet (place your bet at the end of two rows – cover six numbers).
Then, there are the popular Outside Bets, such as the Column Bet (boxes marked 2 to 1); Dozen Bet (boxes marked 1st 12, 2nd 12 or 3rd 12); Red or Black; Even/Odd and 1-18/19-36.
On those Even/Odd bets is where the rule is put in place (Red/black or 1-18/19-36), where the players have even chances of getting half their wagered money back, if the ball lands on zero.
As you see in the image below the red layout and the French words make this roulette table the perfect example of a glamorous and luxurious Monte Carlo or Venice-style table: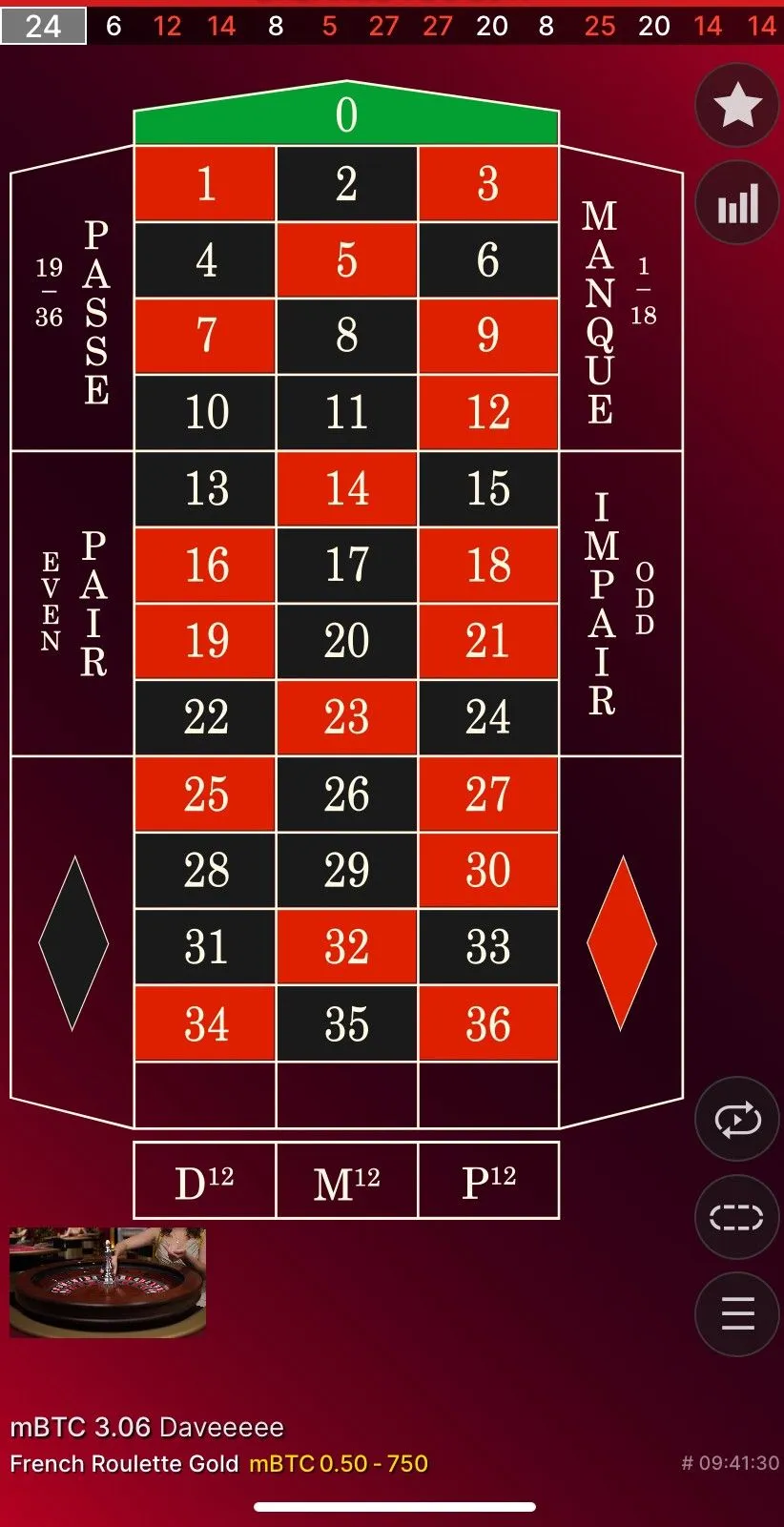 Key Benefits to Players
If you're looking for the lowest house margin of all roulette variants (European and American roulette), then look no further than French Roulette.
This live roulette table offers an unbeatable 98.65% return to player percentage on all even bets (even or odd, red/black, 1-18, 19-36), which tends to greatly appeal to high rollers and VIP players.
There is also the useful live chat feature, allowing players to interact with the dealer, improving the experience altogether.
What are the Betting Limits of the French Roulette?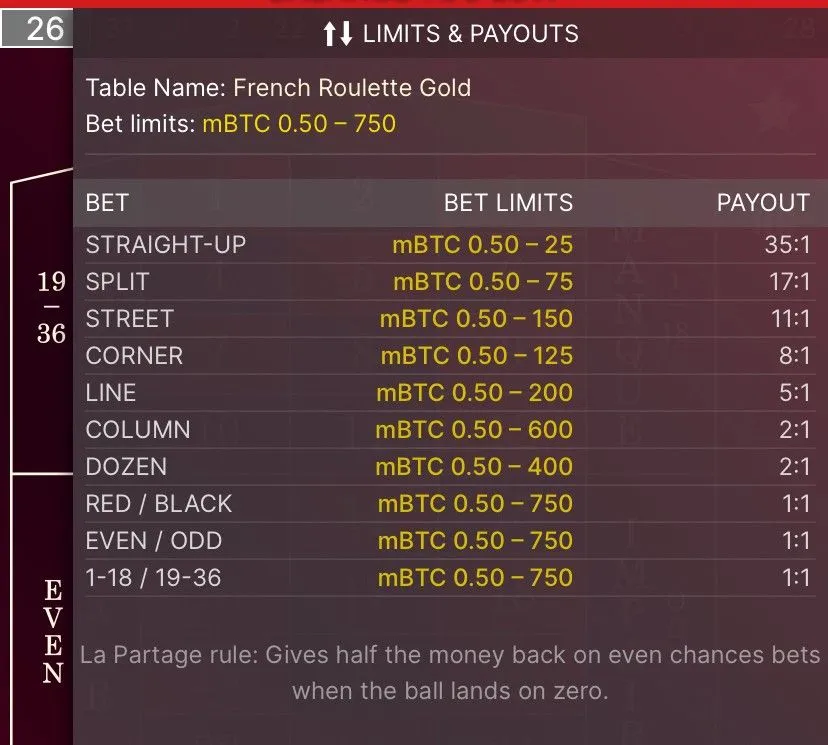 Minimum Bet at French Live Roulette starts at €2 (mBTC 0.5) and go up at €50,000 (mBTC 750).
Why is the minimum bet at €2, you might be asking? The answer simple, it's because of the aforementioned rule, where the player is refunded half of their stake, if the ball lands on zero.
With just one zero on the French wheel, the house margin lower than any other roulette and RTP at 1.35%, what more reasons could players possibly be looking for?
The secret of La Partage Rule
In English, this translates to the 'dividing rule' or 'sharing rule' and it is probably the most-loved rule by the smartest roulette player. It is offered on most of French roulette and we always advise to first check the rules and payouts table before starting any game.
How it Works
It is very simple, if the ball lands on zero (0), all even money bets placed (even/odd, red/black, 1-18, 19-36) are divided in two, with half of the player's original bet returned to the player.
This simple action brings the house advantage (casino's edge) at their minimum level of 1,35%.
This is what makes this rule unique for the smartest players and practically makes French Roulette similar to Baccarat and Blackjack return to player.
Without this rule, a roulette player will lose 100% of the bet if the ball lands on "0".
What is the French Roulette Payout Table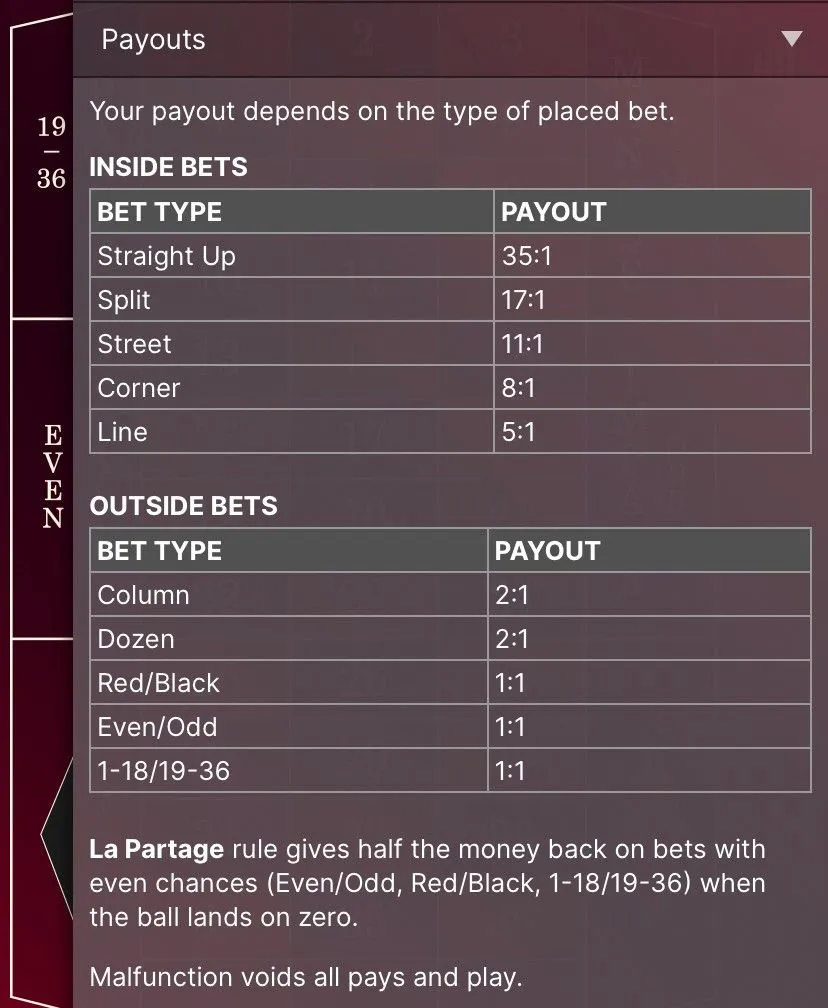 Where Can you Play La Partage Rule?
This is available to play at coinsaga.com
Conclusion
Glamour, luxury, exclusive red tables, appealing French words – all of these are what make up French Roulette. But besides all those great aesthetic elements, the secret of French Roulette is the La Partage rule. The best tip to offer any player? When playing French Roulette, always make use of this rule on offer.
Frequently Asked Questions (FAQs)
Where Can I Play French Roulette?
You can find this luxury game at coinsaga.com's live casino lobby, so enjoy it!
What is the French Roulette Payout?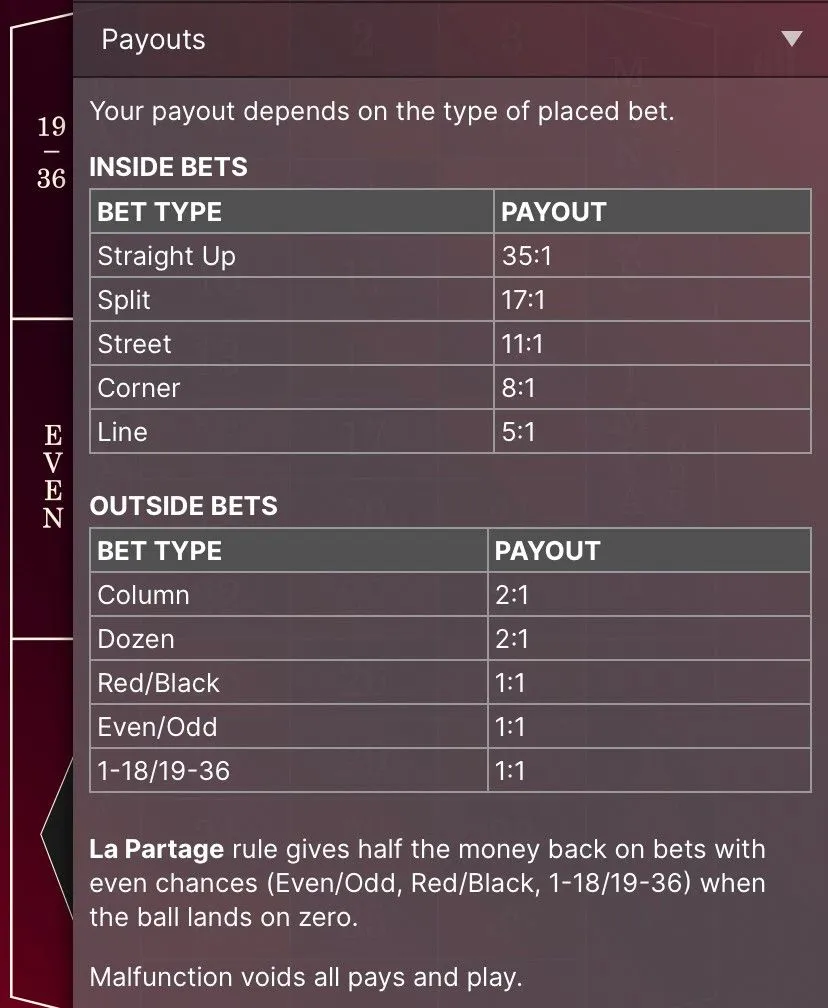 What is the French Roulette RTP?
The Return to Player (RTP) percentage is 98.65% , the lowest of any of the roulette tables.
What are the Differences Between American and European Roulette?
The main difference between European and American roulette is the payout of each game. European Roulette has 37 boxes (where the ball lands) on the wheel, while American Roulette has 38 boxes, because in this case, there are two zero boxes. Both versions of roulette have 18 red boxes and 18 black boxes. This means that European roulette has better a RTP than the American version. Our advice is to always choose and play the European Roulette version.
Who is the Software Developer for French Roulette?
Evolution Gaming is the provider of the French Roulette live game.
Could Evolution Gaming's French Roulette be rigged?
The French Roulette provided by Evolution Gaming is fair.
This is because all the roulette versions on Evolution are licensed and certified by different gaming commissions and legislations. For further examples, see below:
"Evolution is licensed and regulated by:
Malta Gaming Authority – Critical Gaming Supply License, B2B
Alderney Gambling Control Commission – Category 2 eGambling License
Alderney Gambling Control Commission – Core Services Associate Certificate
UK Gambling Commission – Remote Operating License (to operate a casino)
UK Gambling Commission – Remote Gambling Software License (to manufacture, supply, install or adapt gambling software)
Pennsylvania Gaming Control Board, Commonwealth of Pennsylvania, USA – Conditional Interactive Gaming Manufacturer License
Division of Gaming Enforcement, State of New Jersey, USA – Transactional waiver for Evolution's CSIE license application in New Jersey, USA
Kansspel Commissie (Belgium Gaming Commission) – Vergunning klasse E (Class E License)
Romania National Gambling Office – Class II License
Gaming Policy and Enforcement Branch (British Columbia, Canada) – Gaming Services Provider (Class B Supplier)
The Lotteries and Gambling Supervisory Inspection of Latvia – License for rendering gambling service.
The licensors perform regular reviews to ensure that Evolution complies with the licensing requirements.
In addition, Evolution is:
Certified by ADM (L'Agenzia delle Dogane e dei Monopoli) in Italy
Certiified by DGOJ (Dirección General de Ordenación del Juego) in Murcia, Spain
ISO 27001:2013 accredited.
In addition to licenses and certifications with a direct impact on the company's capacity to offer its services, Evolution has, since 2015, also been part of the Latvian government's In-Depth Cooperation Programme and is ranked as Gold level (out of Gold, Silver and Bronze). The programme is an initiative aimed at increasing cooperation between the government and industry. To be included in the programme, a company must meet certain criteria on matters relating to financial position, number of employees, wage levels and tax payment history."
The above list of Evolution Gaming's compliant legislations means that its Immersive Roulette games could not possibly be rigged.
Where Can you Play La Partage Rule?
This is available to play at coinsaga.com.
What are the Game Stats Level present at French Roulette?
French Roulette offers the chance to view the statistics of your last 500 rounds (ball history). Hot and cold number statistics are also available.
What are the Best Strategies To use at Live Roulette Table?
Read our guide on the most popular roulette strategies here